Denver Health Sloan's Lake Primary Care Center Now Open
September 01, 2020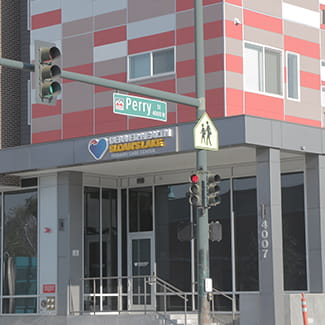 Denver Health is excited to announce the grand opening today of our 10th Community Health Center in the Denver Metro Area – the Sloan's Lake Primary Care Center.

Located at 4007 W. Colfax Ave. (Colfax Ave. and Perry St.) in west Denver and open Monday - Friday from 8 a.m. - 5 p.m., the new Sloan's Lake Primary Care Center is open to all patients, from the smallest babies up to the elderly/geriatrics. It was opened in partnership with the Denver Housing Authority which has senior housing located just above the clinic in the same building; this new clinic serves all patients from throughout the metro Denver area.
Services Offered at Sloan's Lake Primary Care Center
As part of our Community Health Services network, the new Sloan's Lake Primary Care Center provides the following services to patients:
Adult primary care
Children's primary care
Health screenings
Vaccinations/immunizations
Family planning and birth control
Well-child services
Full Women's Care, including before, during and after pregnancy
Health education
Management of health issues such as hypertension, cardiovascular disease and diabetes
Social workers
Behavioral health
Substance abuse counseling
Insurance enrollment services
Full laboratory and testing services (including blood testing)
Care navigation
As part of our commitment to care for all patients, Sloan's Lake Primary Care Center patients have access to all medical and surgical specialties for adults and children available through Denver Health. Medical interpretation and translation services are available to help non-English-speaking patients with their appointments. The Sloan's Lake Primary Care Center has a Health Care Program for Children with Special Needs to assist families of children with disabilities.
Convenient Primary Care Clinic Location in Denver
The Sloan's Lake Primary Care Center is easily accessible for patients in Denver's Sloan's Lake, West Colfax and Villa Park neighborhoods. The clinic is easy to get to on foot, bicycle, car or public transportation. It is located right on RTD's Route 16 Bus Line on West Colfax and just a couple of blocks away from the Perry Street Light Rail Station.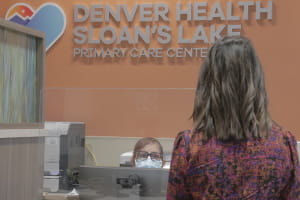 "It's a really nice location for patients who use public transportation," Sloan's Lake Primary Care Center Medical Director Jeanne Rozwadowski, MD remarked.

"It's convenient getting here," said Sloan's Lake Primary Care Center patient Orlando Maestas. "You can't miss it, they're right off Colfax."

For those driving to the clinic, free parking is available underground on the basement level, on the north side of the building, directly behind the clinic. Patients can take the elevator from the garage to the first floor to enter the clinic. When coming from the street, the clinic's main entrance is on the south side of the building, right on Colfax.
For those with limited access to transportation or issues with travel, care navigators can assist with potential transportation benefits through health insurance or other assistance.
How to Make an Appointment
New and current patients can make an appointment at the Sloan's Lake Primary Care Center by either calling the Denver Health Appointment Center at 303-436-4949 or use the free MyChart app to make an appointment online using a smartphone or computer. Both in-person and virtual (telephone) visits are available from this clinic.
Safe at Denver Health
Denver Health's number one priority is to protect the safety of our patients, both during and after the COVID-19 pandemic is over.

"The pandemic has changed our processes across the Denver Health system," said Dr. Rozwadowski.

To keep patients safe at the Sloan's Lake Primary Care Center, all of our clinics have implemented significant measures to reduce the spread of the virus including: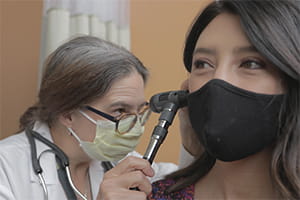 Temperature checks at the door for all patients, staff and visitors
Patient, staff and visitor screenings at the door for COVID-19 symptoms
Mandatory masking and social distancing in clinic
Advanced cleaning and sanitation
Expansion of telehealth and telemedicine services, so patients can visit their provider over the phone or through video conferencing
A New Location to Better Serve Our Patients
Dr. Rozwadowski is excited to lead the new Sloan's Lake Primary Care Center and wants to stress that it will better serve Denver Health's growing patient population with a location that is convenient, safe and easy to access.

"Just seeing the atmosphere that was in here, it was a good experience," said Maestas, after his first appointment at the bright, new clinic.

Patient Alice Garcia agreed, "I'm going to keep coming back here, because it's [now] my favorite location."