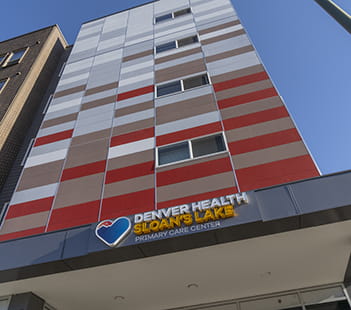 Sloan's Lake Primary Care Center
Sloan's Lake Primary Care Center
4007 West Colfax Avenue
Denver, CO 80204
303-436-4949
303-602-5900
303-602-5900


Accepting New Patients:Yes
Maps & Directions
Office Hours
Monday-Friday 8:00 a.m. - 5:00 p.m.
About Sloan's Lake Primary Care Center
Denver Health's Sloan's Lake Primary Care Center is open to all. As part of our Community Health Services network, the Clinic provides adult and pediatric services, including health screenings, family planning, well-child services, gynecological care, obstetrical care, health education, as well as management/care of health issues such as high blood pressure, heart disease and diabetes.
For our patients:
Access to medical and surgical specialties for adults and children available through Denver Health
Medical interpretation and translation services to assist non-English-speaking patients
Health care program for children with special needs/children with disabilities
Sloan's Lake Primary Care Center Location and Access
Located in Denver's Sloan's Lake neighborhood and close to RTD and Light Rail transportation, the clinic is easily accessible for patients in East Lakewood, Edgewater, and Denver County's Sloan's Lake, West Colfax and Villa Park neighborhoods. For those with limited access to transportation or issues with travel, care navigators can assist with potential transportation benefits through health insurance or other assistance.
Sloan's Lake Location Services
Primary care clinic — adult and pediatric
Family planning
Birth control
Maternal and child health
Patient care navigation
Laboratory
Social Work
Chronic disease management (diabetes, high cholesterol, high blood pressure, etc.)
Telehealth and Telemedicine Appointments
As part of our commitment to safety – and convenience – Denver Health has expanded its telehealth and telemedicine services, so patients can visit their provider over the phone or through video conferencing. Call the clinic or visit DenverHealth.org/telehealth for more information.
About Denver Health
Denver Health provides health services to more than 30% of Denver's residents through its acute care hospital, nationally recognized Trauma Center and the nation's second-oldest community health center system. As one of the oldest and largest community health centers in the country, the community clinic system consists of citywide primary care health centers, urgent cares and school-based health centers.