Flu Shots Available at Denver Health
October 01, 2020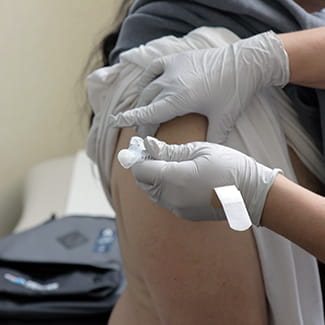 Make Your Appointment Today
With the convergence of the COVID-19 pandemic and the seasonal flu, Denver Health strongly recommends that everyone over the age of six months get a flu shot. The Centers for Disease Control and Prevention (CDC) predicts that both the influenza virus and COVID-19 will be spreading at the same time, creating the potential for more sickness and an extra strain on health care resources.
How to Get A Flu Shot in Denver
Flu shots are available at Denver Health with an appointment beginning Oct. 5.

Because of concerns about the spread of both the flu and COVID-19 this fall and winter, there is already a high demand for flu shots this early in the season. Denver Health is prepared to meet that demand for both current and new patients through their primary care providers at our 10 local health centers and for anyone in the community at our Denver Public Health Immunization Clinic. Denver Health patients can receive a flu shot during regularly scheduled visits. Appointments are required for all flu shots this year due to COVID-19, including at the Immunization Clinic. Same-day appointments are available in most cases. To make an appointment with a primary care provider, call the Denver Health Appointment Center at 303-436-4949 or use the free MyChart app; for an appointment at the Immunization Clinic, call 303-602-3520. The Immunization Clinic has appointments available Monday - Friday, from 8 a.m. - 4:15 p.m.
Why The Flu Shot is Safe
The flu vaccine isn't just about protecting yourself – it helps protect others in your community by stopping the spread of the virus to those who have been vaccinated. It is a key factor in staying healthy during the upcoming fall and winter flu season. Millions of people get the flu in the United States every year, hundreds of thousands of people are hospitalized and thousands to tens of thousands of people die from flu-related causes every year. The flu vaccine is safe and proven to be the most effective way to help protect against getting the influenza virus. Flu vaccination has been shown to have many benefits including reducing the risk of flu illnesses, hospitalizations and even the risk of flu-related death in children.
Can You Get the Flu From A Flu Shot?
According to the CDC, you cannot get the flu from getting vaccinated. The most common side effects are mild, such as muscle soreness at the site of injection, and those effects only last a few days. The flu shot is so safe, in fact, that the CDC recommends everyone over the age of six months should get an annual flu shot.
Can You Get COVID-19 From A Flu Shot?
There is no evidence that getting a flu shot will increase your chances of getting COVID-19. Both influenza and COVID are highly contagious respiratory viruses. Both can be spread through microscopic droplets in the air created by things like coughing or sneezing. While social distancing and wearing a mask can help contain the spread of these viruses, the influenza vaccine provides an additional level of protection to both yourself and the community.
Safe at Denver Health
When you come into Denver Health to get your flu shot, you can be assured that we have taken extra safety measures to keep you safe from the spread of COVID-19 and any other contagious diseases. That includes extra cleaning and sanitizing of clinic and patient rooms and waiting areas, temperature screening at the door, wearing masks, social distancing and increased access to hand hygiene.

It is possible to get the flu and COVID-19 at the same time, which is another reason to get your flu shot. If you experience any COVID-19 symptoms after getting the flu shot, it is important that you contact the Denver Health NurseLine at 303-739-1211 to get screened and determine if you will need to get tested or quarantine yourself.

Read about the top five flu shot myths and facts.