Free Community Soil Testing Event Held at Denver Health
October 13, 2020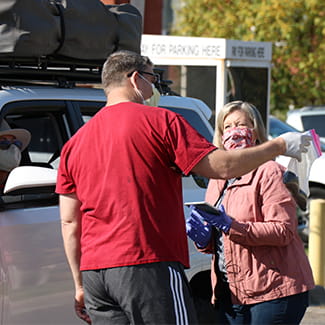 On Saturday, October 10, Denver Health hosted a free community event to help our neighbors determine whether there are dangerous levels of lead in the soil around their homes. The event is called soilSHOP, which is a national program run by the Centers for Disease Control and Prevention (CDC). Denver Health partnered with the CDC, the Environmental Protection Agency and the Colorado Department of Public Health (CDPHE) to invite a limited number of neighborhood residents to bring samples of soil from around their homes to a drive-up, socially-distanced event, to have it tested for lead – right on the spot.
Dangers of Lead in Soil
According to the CDC, lead is often found in urban soil due to past uses of lead in gasoline and paint, and from industrial processes. The soilSHOP program encourages urban gardening while recognizing that the soil around many homes may be contaminated with dangerous substances like lead. According to Denver Health Pediatrics Physician Mark Anderson, MD, lead can be very damaging to health, especially for children.
Dr. Anderson leads the
Pediatric Environmental Health Specialty Unit (PEHSU)
for the Rocky Mountain Region, based at Denver Health. He said that produce grown in gardens filled with lead can be especially dangerous for children to eat.
"Denver Health is on the edge of the Baker Neighborhood and we want to be a good neighbor, so the soilSHOP seemed like a good community event to conduct," Dr. Anderson said.
How soilSHOP Works
Community members taking part in soilSHOP collected a small sample of soil from their homes or neighborhoods – either in their garden or the areas where their kids play – and put it into a plastic bag. The sample was brought to the soilSHOP event where it was screened by a handheld X-Ray device that estimates the levels of lead in the soil. The results were then given to the participant along with information on ways to reduce lead exposure while gardening, prevent lead poisoning, get additional soil testing done and where to get themselves or their children tested if they are concerned about lead exposure. The CDPHE will follow up with phone calls to participants in about two weeks to discuss the results in more detail. Further lab testing may be needed to confirm the source of any lead found in the soil.
Denver Health's Role in Protecting the Community from Lead in Soil
Dr. Anderson leads the PEHSU unit based at Denver Health, which is a national group of experts including physicians, nurses, toxicologists and industrial hygienists focused on children's exposures to environmental hazards.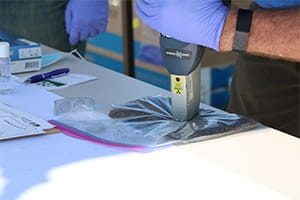 "We work with the public around their concerns about environmental hazards. We are advocates for children and their environmental health and safety," said Dr. Anderson. He added that the group has a team in every region of the United States and works with children, their families and their providers, along with the federal government, to address concerns about actual or potential environmental exposures.
In the past, soilSHOPs took place at large community events, such as county fairs and festivals, but in the age of COVID-19, adjustments are being made to bring these smaller, socially-distanced drive-up events inside of communities, including last Saturday's event at Denver Health.
"This was an amazing opportunity to have our soil tested for free, because everyone is trying to grow a garden now, no matter what their socio-economic level is, and we really need to know how to do that safely," said Baker Neighborhood resident Donna Hansen.
Denver Health is working to bring more soilSHOP events to our facilities around the city in the coming months. Upcoming soilSHOP events will be added to the

CDC's website

.