Denver Health Unveils New Mobile Health Center
November 23, 2020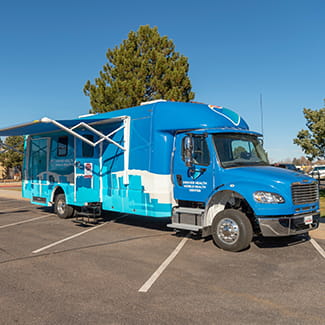 Denver Health is proud to unveil a new tool to deliver care to at-risk communities at a time when it is needed the most.

Our new Mobile Health Center, which just went into service last week, will revolutionize the way Denver Health delivers health care outside of the traditional clinical setting.
Denver Health Offering Mobile COVID-19 Testing
As an extension of Denver Health's community clinics, the Mobile Health Center will be utilized for COVID-19 testing as its first priority. While the Mobile Health Center requires an appointment right now, the goal is to offer walk-up testing in the near future. Teams will take the Mobile Health Center directly to high-health-risk neighborhoods and provide high-quality care to people who otherwise might not have access to it. Many of these communities have been and continue to be hardest hit by COVID-19.

"Our hope is that these efforts will immediately help reduce the rates of COVID-19 cases through increased access to testing, education and supportive resources. The Mobile Health Center is yet another example of Denver Health fulfilling its role as an Anchor Institution by committing our resources to improve the well-being of the communities we serve," said Denver Health CEO Robin Wittenstein, Ed.D., FACHE.
Denver Health to Offer Mobile Primary Care Soon
The plan is to transition the Center from COVID-19 testing efforts to expanded primary care services, such as chronic disease screening and education, as well as connections to preventative, specialty and ongoing care. A primary focus will be to deliver this care to persons experiencing homelessness, individuals recently released from incarceration and those living in poverty.

"We are grateful to The Anschutz Foundation who provided a generous grant to bring the Mobile Health Center to fruition. This Center eliminates barriers to access health care which is critical if we are going to truly improve lives," said Denver Health Foundation Executive Director Linda Ford.

The Mobile Health Center plans to visit community locations in neighborhoods across Denver. For the first weeks, the Mobile Health Center will stage at the Lowry Family Health Center as a curbside testing site before taking the services on the road to other locations.
About Denver Health
Denver Health is a comprehensive health and hospital system that provides high-quality care for all people. We deliver medical care to one-third of Denver's population, proudly serving as the city's safety-net hospital and providing preventative, primary and acute care services.

For more than 160 years, Denver Health has been deeply rooted in the health and well-being of the community, providing high-quality clinical care, top-notch education and training for health care workers, and furthering critical research to benefit our patients. We are guided by our mission to serve our community with excellence, compassion, and stewardship as we work to ensure all people have access to the care and programs they need to be happy, healthy and successful.
About Denver Health Foundation
Government funding and reimbursements for care hardly keep pace with the clinical and social innovations needed for our growing city. Denver Health Foundation helps donors with diverse interests make a comprehensive impact on the health, social, and economic well-being of the greater Denver area, making the groundbreaking work of Denver Health possible.

Learn more at DenverHealthFoundation.org.