Health Care Angels Mural Honors Denver Health Frontline Workers
November 25, 2020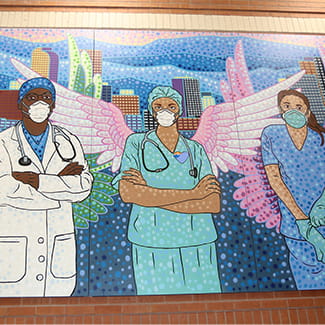 Starting today, patients, visitors and staff who walk into the main lobby of Pavilion A at Denver Health will be greeted by a stunning new mural honoring and recognizing the outstanding and brave work of our heroes on the frontlines during the COVID-19 pandemic.

The eight-foot-high-by-12-foot-wide artwork called "Health Care Angels" is located just across from the information desk, to your left as you walk in. It's the latest in a series of murals by Denver artist Austin Zucchini-Fowler around the Denver metro area, honoring all health care workers. He calls his series "Walls of Gratitude" and this is the first in the series that will be displayed indoors. All of the others have been painted on the walls of buildings around the Denver area. His first work went up last spring, during the beginning of the pandemic and its lockdown, between the City Park West and North Capitol Hill neighborhoods at Colfax and Williams St. in Denver.
A few Denver Health nurses and doctors, Denver Health CEO Robin Wittenstein, Ed.D., FACHE, Denver Health board chair Pia Dean, Denver Health Foundation board chair Josh Hanfling, Colorado State Representative Alex Valdez, and members of the media were in attendance for a small, socially-distanced ceremony Wednesday morning, revealing the mural in Pavilion A and thanking Zucchini-Fowler for his contribution. The artist spent Wednesday morning putting a few finishing touches on the mural, giving Denver Health staff the opportunity to see it as it was being created.
Zucchini-Fowler explained that during the start of the pandemic, he looked for inspiration to his two brothers and sisters-in-law, who all work in health care. "I really wanted to show my gratitude, give them thanks and really promote their efforts during the pandemic," Zucchini-Fowler said.
The Denver Health piece was created in a friend's warehouse, using acrylic and spray paint. It is made up of three panels that are moveable and when put together, show a doctor, a nurse and a housekeeper. He believes it is only fitting to do a piece that sits inside the hospital. He said he created the image to portray Colorado health care workers and Denver Health team members specifically. He called the placement meaningful.
"Denver is the heart of Colorado, and Denver Health is the heart of health care," Zucchini-Fowler said. "I feel that having this image in the hospital is a special thing. As an artist, I have this opportunity to be the voice of the community... I hope that Denver Health employees feel a sense of strength from the image and support. I'd like this image to portray our health care workers as the heroes that they are."
Follow Zucchini-Fowler's art projects on his website and Instagram pages.