Denver Health Frontline Workers Receive First COVID-19 Vaccinations
December 18, 2020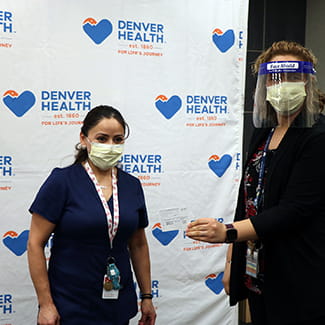 After months of the working through the novel coronavirus (COVID-19) pandemic, Denver Health is excited to announce that we are now giving the first COVID-19 vaccines to our frontline health care workers. Thirty-seven high-risk, patient-facing frontline health care workers and support staff who work with COVID-19 patients received their vaccines during the first trial run COVID-19 vaccination clinic yesterday. Nearly 300 more workers will receive the vaccine today and thousands more will get it in the coming weeks – including first responders such as Denver Police and Denver Fire.
The initial group is receiving a two-dose Pfizer BioNTech vaccine. Those getting the first round of vaccines include physicians, nurses, environmental service workers (housekeepers), respiratory therapists, patient transporters and first responders.
The first Denver Health employee to be vaccinated was Karol Galdamez, a housekeeper in the
Medical Intensive Care Unit
. The process went smoothly from check-in, to shot. After receiving the vaccine, Galdamez sat in an observation area for 15 minutes, to ensure of no immediate adverse side effects. We asked her how she felt about getting the first COVID-19 vaccine at Denver Health.
"At first I was a little bit nervous, but now it's OK. I feel good, like nothing happened; my arm is OK," she said with a smile. Galdamez urged everyone to get the vaccine when it is available to them so that they can protect themselves and the community from the spread of the novel coronavirus (COVID-19).
Denver Health
Pediatric Emergency Department and Urgent Care Center
physician Guy Upshaw, MD, was also in the first phased group to get a vaccine. He pointed to the proven effectiveness of the COVID-19 vaccine clinical trials and urged everyone to get a vaccine when it is available.
"I see a light at the end of the tunnel if enough people get vaccinated," Dr. Upshaw said. "Around 60 to 70 percent of the population would need to get vaccines to achieve true herd immunity and then we can prevent COVID-19 from spreading. The (COVID-19) symptoms can be quite severe and can lead to death. The whole nation would be doing its part if everyone got a vaccination. We could return to normal much more quickly.
"In the meantime, we need to keep wearing our masks when we are in public and we need to keep six feet of distance and avoid crowds and wash our hands."
Upshaw called the process of getting his vaccine "virtually painless."
Denver Health Infection Prevention Manager Bryan Knepper said the trial run clinic went very smoothly and that the team learned a lot to help with future clinics in the weeks and months to come. He called the actual immunization portion of the clinic, "very simple and straight forward," comparing it to any other immunization, such as a flu shot.
"I'm just overjoyed to be here today, to be part of this, as just one small part of this process, there is a huge team that made this happen today and I am just humbled to be part of it," Knepper said.
Denver Health
Center for Occupational Safety and Health
Practice Manager Jessica Ruiz co-organized the first clinic and said the process was exciting for her. "It's part of history and I'm grateful to be a part of that. I'm glad that we can serve our employees who are the heart of this organization," she said. "Ensuring their safety is what's important to us, so I'm just very glad and thankful to be a part of that."
Ruiz is looking forward to making sure the community gets vaccinated next year. "I believe in this vaccine, I'm glad I got it and I hope everyone gets vaccinated," Dr. Upshaw said.
We will continue to keep our patients updated on when COVID-19 vaccinations will be available to them; for the latest news, visit DenverHealth.org/Coronavirus.