Parents and caregivers are often tasked with the difficult decision of seeking medical care for a sick child. When a child wakes up in tears, with a stomach bug, feeling hot to the touch with a fever, or something else, a caretaker can't help but feel helpless. Denver Health's pediatricians are here for a child's health concern, day or night. Our urgent care pediatricians offer around the clock care 24 hours a day, 7 days a week at our pediatric emergency department.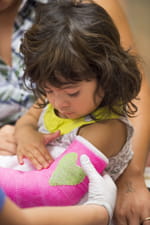 Sub-specialties
Child Life Program: We have a dedicated child life specialist on staff to help ease children's fears and anxiety when visiting the emergency room. Also, our team of child life specialists serves children in other parts of the hospital, helping make pediatric visits easy for kids and adults.
Pediatric Trauma Care - for life threatening injuries and illnesses
Pediatric Inpatient Unit: Our pediatric inpatient unit includes a pediatric intensive care unit and a pediatric wing staffed by pediatric intensivists, pediatricians and pediatric nurses to provide care 24 hours a day.
Pediatric Radiology: Our radiology department provides state-of-the-art pediatric imaging services, with a dedicated pediatric radiologist on-site.
Pediatric Surgery: Our pediatric surgeons use state-of-the-art techniques in treating children and strive to use minimally-invasive techniques as much as possible.
Pediatric Anesthesiology: Since children react differently to anesthesia than adults, a pediatric anesthesiologist will lead your child's anesthesia care team and will be assisted by a Certified Registered Nurse Anesthetist.
Pediatric Urgent Care Frequently Asked Questions