Meet Denver Health's New In-House Interventional Radiology Team
December 02, 2020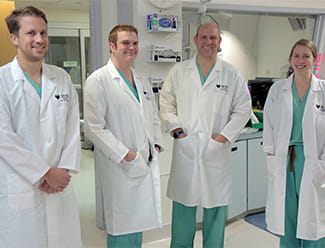 For the first time in 15 years, Denver Health has a new in-house team of Interventional Radiologists. Interventional Radiology is a medical subspecialty that uses image-guided, minimally invasive procedures to treat and cure a wide variety of diseases, such as cancer, vascular disease and genitourinary problems. Interventional radiology also provides temporary and permanent access for dialysis and chemotherapy as well as offering a variety of pain management, biopsy and drainage services. Interventional radiologists play a key role in the multidisciplinary care of both inpatients and outpatients and the new group will work closely with the rest of our Denver Health team to expand this role while continuing to provide excellent patient care. Prior to the hiring of our new team, Denver Health had used an outside contract group for interventional radiology.
Denver Health's New Interventional Radiology Team
Over the summer, Denver Health conducted a nationwide search to recruit our new and skilled team of interventional radiologists, who hail from all across the country. In addition to these four new physicians, the Interventional Radiology team includes a patient scheduler, nurses and technologists. All team members have a wealth of experience.

Eric Aaltonen, MD is Denver Health's Chief of Interventional Radiology. Dr. Aaltonen joined us from New York City, where he was the Associate Section Chief for Vascular & Interventional Radiology at the New York University Langone Medical Center. Dr. Aaltonen completed his medical education at Northwestern University. He was trained in Diagnostic and Interventional Radiology at New York University (NYU) and the University of California, San Francisco. During his tenure at NYU, Dr. Aaltonen served as the Director of Operations for Interventional Radiology (IR), Program Director for the IR fellowship and residency and he served on a number of committees focused on trauma and education. He will lead Denver Health interventional radiology's clinical, educational, and research missions.

Stephen Dreyer, MD joined Denver Health from Houston, Texas, where he was a staff interventional radiologist at the Baylor College of Medicine. He was the Director of Interventional Oncology, Chair of Utilization Committee, and Residency Rotation Site Director for Interventional Radiology at Baylor St. Luke's Medical Center. Dr. Dreyer received his medical degree at the Baylor College of Medicine. His training in Diagnostic and Interventional Radiology was completed at Case Western Reserve University and the University of Texas MD Anderson Cancer Center in Houston. Dr. Dreyer is praised by his colleagues for his high-level skill in complex Interventional Radiology procedures, his skills as a clinician and his outstanding training for students, residents and fellows.

Meredith McDermott, MD joined Denver Health from New York City, where she was an Assistant Professor of Vascular and Interventional Radiology at the New York University Langone Medical Center. Dr. McDermott held a number of educational roles including Director of Interventional Radiology Elective for NYU School of Medicine and the Residency Education Representative for Interventional Radiology. She also served as the Director of Operations at NYU's Brooklyn site. Dr. McDermott received her medical degree from the University of Pittsburgh and she completed her Diagnostic and Interventional Radiology training at NYU. Dr. McDermott's area of clinical expertise includes uterine fibroid embolization as well as other OBGYN-focused minimally invasive procedures. Dr. McDermott is considered a top educator by learners and her colleagues.

Adam Schwertner, MD joined Denver Health from San Francisco, where he was a Vascular and Interventional Radiology Fellow at the University of California, San Francisco (UCSF). Dr. Schwertner completed his MD degree at the University of Chicago and completed his Diagnostic Radiology training at UCSF. Dr. Schwertner has an established track record as an educator, researcher and innovator, including having developed his own mobile application geared toward anatomy education. Dr. Schwertner contributed to student and resident education throughout his time at UCSF. He has a passion for caring for the underserved. His undergraduate engineering degree has contributed to his interest in medical devices innovation.

Visit our Interventional Radiology web page for more information on our services and to make an appointment.