What is Interventional Radiology?
Interventional Radiology is a medical subspecialty that uses image-guided, minimally invasive procedures to treat a wide variety of diseases. In contrast to radiology, which uses imaging procedures like MRI, CT and ultrasounds to diagnose conditions or injuries, interventional radiology uses these same imaging tools to help treat and cure conditions.

Interventional Radiology procedures often have fewer risks and shorter recovery times than traditional more invasive surgery. Because interventional radiologists look inside the body with imaging tools, treatments are often very precise and highly effective.

What Conditions Can Interventional Radiologists Diagnose and Treat?
Interventional Radiologists work with a range of medical specialties and can operate on a number of the body's systems. While the list of interventions we can perform is always evolving and growing, below are some of the most common conditions we evaluate and treat.

Venous & Arterial Conditions
A doctor may refer you to an Interventional Radiologist to treat problems in your circulatory system including your arteries and veins. Some of the treatments we offer include angiography (used to evaluate arteries and veins for abnormalities such as tumors or bleeding), embolization (used to cut off the blood supply to bleeding or abnormal vessels), and stent placement to repair abnormally large vessels (aneurysms) or closed vessels that need to be reopened. Interventional Radiologists also remove blood clots and can treat veins in your legs that cause pain and swelling.
Trauma & Bleeding
Interventional radiology plays a key role in stopping bleeding, most typically in the setting of traumatic injury, bleeding in your gastrointestinal system, bleeding due to fibroids, or bleeding related to child birth.
Cancer
Our doctors assist in the diagnosis and treatment of certain cancers. We use imaging-guided biopsies to get small pieces of tissue that are then evaluated fora potential cancer. We can also perform cancer treatments either by delivering chemotherapy or radiation directly to tumors through the blood vessels or by applying thermal energy (either hot or cold) directly to tumors using probes placed through the skin. We commonly treat cancers in the liver, kidneys, lungs, and bones using these methods.
Musculoskeletal Pain & Conditions
Our minimally invasive treatments can also relieve pain caused by certain musculoskeletal conditions, such as arthritis and compression fractures in the spine. Interventional Radiologists use steroid injections in joints and the lower back to provide pain relief. For compression fractures, a cement like material can be injected into the bones of the spine for stabilization and pain relief. Image-guided injections of nerves in certain parts of the body also provide pain relief.
Do I need a referral to visit Interventional Radiology?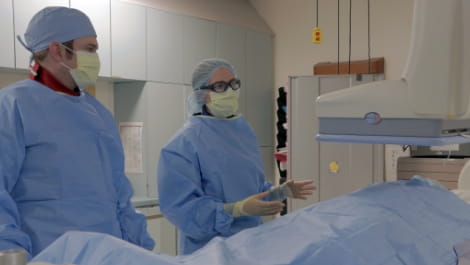 Referrals are required for procedure requests but are not necessary for clinical consultation. Your doctor can submit a referral using EpicCare.
About Our Team
Denver Health Interventional Radiology is made up of four fellowship trained physicians from across the country. We provide provide expert clinical consultation for patients and referrers along with the full range of interventional radiology procedures. Our program is the only site in Denver creating endovascular dialysis access fistulas.