Winter Storm Update
March 15, 2021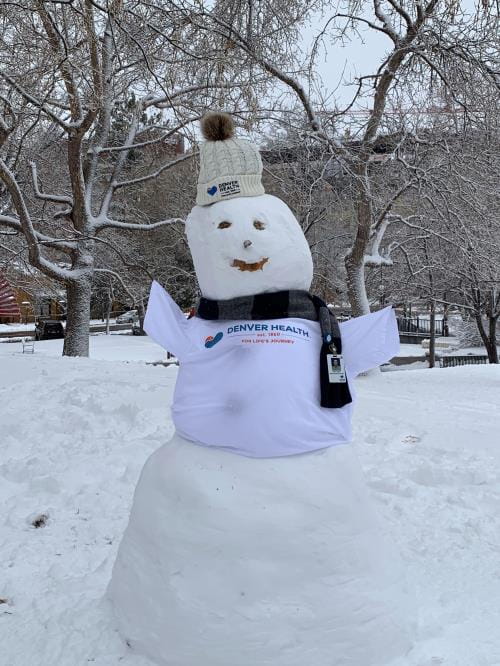 Due to the winter storm, Denver Health is adjusting hours for clinics and services to ensure the safety of our patients and staff.
The following Denver Health clinics and services have been impacted with delays or closures. Please see the details below.
The Mobile Health Center COVID-19 vaccinations appointments scheduled for All Saints Church, are canceled and will be rescheduled to Monday, March 22. COVID-19 vaccination clinics at Eastside, Federico F. Peña, and Westwood clinics are running normal operations 8:30 a.m. – 3 p.m. COVID-19 Testing Facilities at Montbello, Federico F. Peña, and Rita Bass are running normal operations 8 a.m. – 4 p.m.
Denver Public Schools locations will be closed on Monday, March 15 and all School-based Health Centers will also be closed for physical health appointments; mental health appointments will proceed virtually.
The metro area will likely feel the impact of the storm into Monday. Denver Health will post important updates on our website and social media channels.
Emergency crews are advising people to stay home and off the roads as much as possible to avoid accidents or injuries.
Please stay safe.
MONDAY, MARCH 15 - DENVER HEALTH CLINIC AND SERVICE OPENING HOURS
CLINIC OR SERVICE

MONDAY HOURS

URGENT CARE

Adult Urgent Care on main campus

7 a.m. – 7 p.m.

7 a.m. – 7 p.m.

Virtual Urgent Care (via MyChart)

7 a.m. – 7 p.m.

9 a.m. – 8 p.m.

EMERGENCY DEPARTMENT

Emergency Department – Adult and Pediatric on main campus

Open 24/7

NURSELINE

Denver Health Nurseline (303-739-1211)

Open 24/ 7

PRIMARY AND SPECIALTY CARE

Level One Physician's Clinic

7:15 a.m. – 5 p.m.

Webb Pediatric Clinic

8 a.m. – 5 p.m.

Webb Adult Primary Care Clinic

8 a.m. – 5 p.m.

Dental Clinic at Denver Health

7 a.m. – 7 p.m.

8 a.m. – 5 p.m.

8 a.m. – 5 p.m.

Federico F. Pena Southwest Family Health Center
Dental Clinic closed all day

8 a.m. – 5 p.m.

7:30 a.m. – 5 p.m.

Closed

Montbello Family Health Center
Dental Clinic closed all day

12:30 p.m. – 5 p.m.

Closed

8 a.m. – 5 p.m.

7:00 a.m. – 5 p.m.

Hematology/Oncology

8 a.m. – 5 p.m.

Orthopedics

8 a.m. – 5 p.m.

Eye Clinic (Pavilion D on main campus)
Last patient at 4:45 p.m.

8 a.m. – 5: 30 p.m.

ENT

8 a.m. – 5 p.m.

Audiology

Closed

8 a.m. – 5 p.m.

8 a.m. – 5 p.m.

8 a.m. – 5 p.m.

Women's Care Clinic (pavilion C on main campus)

8 a.m. – 5 p.m.

Physical Therapy Clinic (Pavilion B on main campus)

8 a.m. – 5 p.m.

5 a.m. – 5 p.m.

COVID-19 VACCINATION AND TESTING

COVID-19 Vaccine Clinics

Gipson Eastside Family Health Center

8:30 a.m. – 3 p.m.

8:30 a.m. – 3 p.m.

8:30 a.m. – 3 p.m.

COVID-19 Testing Facilities

Montbello Family Health Center

Pena Southwest Family Health Center

Rita Bass Center on main campus

8 a.m. – 4 p.m.

COVID-19 Vaccine Hotline (303-436-7000)

7 a.m. – 3:30 p.m.

DENVER PUBLIC HEALTH

8 a.m. – 5 p.m.

ROCKY MOUNTAIN POISON AND DRUG SAFETY

Rocky Mountain Poison and Drug Safety (1-800-222-1222)

Open 24/7