Denver Health Partners With DPS for Largest COVID Vaccination Effort
April 28, 2021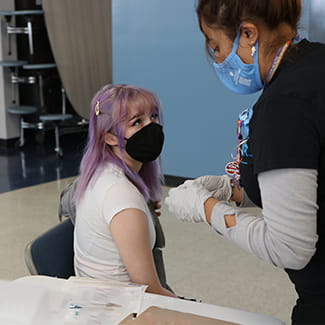 Denver Health, in partnership with
Denver Public Schools
, is holding six student COVID-19 (novel coronavirus) vaccination events at its
School-based Health Centers
across the city in April and May. This is Denver Health's largest COVID-19 vaccination effort to date, which started on the weekend of April 17-18 and continues through May 1-2.
With COVID vaccines now available to everyone age 16 and over, this is just the latest in Denver Health's ongoing effort to vaccinate all those in the community who need a vaccine, in accordance with
state guidelines
.
Sonja O'Leary, MD is director of Denver Health's 18 School-based Health Centers. "We are hoping to vaccinate between 300 and a thousand students at each event," Dr. O'Leary said. "It really feels hopeful in the sense that being able to vaccinate kids against COVID-19 to me really signifies maybe the beginning of the end or maybe the beginning of a new normal."
At the April 18th clinic at the
Lincoln High School School-based Health Center
, Denver Health interviewed a trio of 16-year-olds who came with their parents to get vaccinated.
Will Adams said his main reason for getting a vaccine was so he could do shot put and high jump again. "Being an athlete, this can help slow the virus down so I can get back to doing my athletics."
For Isabella Herrera, it was all about seeing her family. "My grandma brought it up and told me I should get vaccinated, so I can see her more."
Tyra Palmer said she also wanted to get vaccinated because all of her family members had already received a vaccine. She also said it would protect her and others around her. "I recently started a new job and I wanted to feel protected from the coronavirus because I'm going to be around a lot of people."
"There's two big reasons why we want to try to vaccinate our high school students," said Dr. O'Leary. "The first one is because we want them to protect themselves. In the United States, about 250 kids have died of COVID and thousands more have been hospitalized. Secondly, it's super important to protect your family." She also emphasized the importance of getting children back in school, along with vaccinated teachers, so those students can get the in-person support they need.
Adams added another big reason we all should get a COVID-19 vaccine – to help our communities. "Just play your role to help fix the COVID situation."
When asked how it felt, Herrera said she had nothing to be nervous about. "I didn't even feel the needle! It was like oh, this is cool!"
Denver Health has a long relationship with Denver Public Schools. Denver Health's School-Based Health Centers (SBHCs) form a large network of care located inside district schools. These centers provide care at no-cost to families for any DPS student or for children enrolled in DPS-affiliated Early Childhood Education programs. Vaccinations for students will provide another layer of protection in safeguarding the health of the community.
All vaccines are safe and effective in preventing serious illness or death from COVID-19.
Everyone age 16 and up can schedule a COVID-19 vaccine appointment at any clinic location, date or time
directly online
or by calling
303-436-7000
. 16 and 17 year olds will need a parental consent form to get vaccinated. You will be able to select a location by vaccine manufacturer or simply choose the first available appointment that fits your schedule. If you have an existing
MyChart account
, you can also make an appointment through MyChart, but you no longer need to sign up for a MyChart account to get a vaccine.
For the latest updates and news about COVID-19, please visit
DenverHealth.org/Coronavirus
.