Denver Health Medical Assistant Gives Back by Playing Music for Babies and Children
March 02, 2022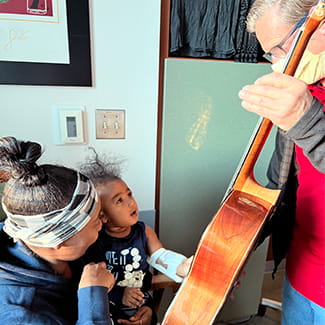 Being in the hospital is tough, especially for children and babies. But one Denver Health volunteer is helping to make that hospital stay a little less stressful with his soothing guitar strumming.
David Miller has worked for Denver Health for the past 10 years, as a medical assistant and licensed X-Ray tech in the department of
Orthopedics
. When he's not on the job, one of his favorite things to do is play guitar.
"I started playing when I was 15 years old and didn't progress much until I met a jazz fusion guitarist in the early eighties who taught me to improvise," Miller said. "Around 15 years ago I took three years of formal classical and flamenco guitar lessons and now I study online. I practice around two hours a day – five to six days a week."
A few months ago, Miller decided he was ready to take his hobby public and wanted to start playing for others. He immediately thought about playing for the kids who are patients at Denver Health. Miller connected with Denver Health's
Volunteer Services
and
Child Life
departments who brought him on as a volunteer outside of his regular working hours to play guitar for the pediatric patients in Pavilion C. For the past three months, Miller has been playing every Thursday night after work for up to seven patients each night.
"It was so relaxing and nice," said Tiffany Winston, who's son Davion was treated to a private concert from Miller. After he was done playing, Miller took the guitar over to the 13-month-old so he could touch the strings and see how it plays.
Miller said that it gives him a lot of joy to see the gratefulness from the parents and the amazement in the children's faces when he comes to play each week. "Everyone seems to appreciate someone spending time and effort with them."
"When I heard that David was volunteering in
Pediatrics
by playing guitar for the babies, I felt that everyone should know what a kind and compassionate person he is," said Carri Cherney, who has worked with Miller in Orthopedics for the past seven years. "I have personally witnessed his thoughtfulness many times throughout the years. The hospital can be a rough place for families to have to be and I think it's amazing to want to provide them with something soothing and entertaining at the same time. His kindness comes from a genuine place."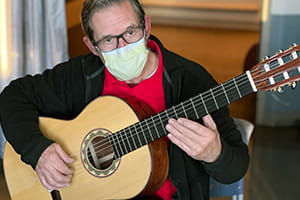 Miller said playing guitar for the children at Denver Health allows him to lose himself in the moment, especially when he makes an impact or sees a great deal of emotion from the children. He said it has also helped him improve his playing.