No Afghan Refugee Left Behind at Denver Health (Updated)
June 01, 2022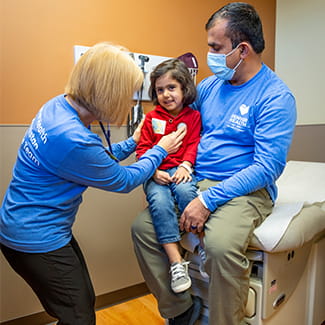 Update: On May 21, 2022, the team at Denver Health's Afghan Refugee Overflow Clinic at the Federico F. Peña Family Health Center saw its final patient, after caring for more than 650 patients over the past seven months! Refugee patients from Afghanistan and all countries can still continue to get care at the Lowry Family Health Center, where our team has cared for more than 400 patients and counting. Learn more about the overflow clinic's work in the original article and video below.
Original article: On a Saturday morning at the Federico F. Peña Southwest Family Health Center, Denver Health's Afghan Refugee Response Team springs into action. The primary care clinic area is normally closed on the weekends, but now is buzzing with activity as providers, nurses, medical assistants, patient care navigators and others help some of the Denver metro area's newest residents get the care that they need. By the end of this summer, the team at this clinic will have helped about 900 Afghan evacuees get medical and mental health care as they resettle in the Denver Metro area, thanks to a $450,000 grant obtained by the Denver Health Foundation from the Colorado Health Foundation.

This overflow clinic at Peña is an extension of Denver Health's Refugee Clinic which is open during the week at the Lowry Family Health Center. Denver Health opened it in November of 2021 specifically for the Afghan refugees, to ensure that the Afghan humanitarian parolees who evacuated in August when the U.S. military ended operations in Afghanistan, are able to get the care that they need here in Denver.
"The patients that I've seen are coming from Afghanistan where the current situation is not great," said Denver Health physician assistant and Afghan Refugee Response Team member Megan Greising. "Most of them have had successful careers, many of them are highly educated and have seen doctors in the past and are basically trying to reestablish that (doctor's care) here in the United States."

The refugee clinic is funded by the Colorado Refugee Services Program. Denver Health is one of two refugee screening sites in the Denver Metro area. This is one of the first stops for refugees resettling in Denver, where they go through a series of screening guidelines required by the Centers for Disease Control and Prevention. The patients are required to be vaccinated against COVID-19 before they arrive in the United States.

"We do full physical exams from head-to-toe, mental health screening, vision and hearing checks and the standard laboratory testing," explained Janine Young, MD, medical director of the Denver Health Refugee Clinic. "Then, we link them to ongoing care, we educate them about health issues that they may not know about and provide them with any treatments they may need."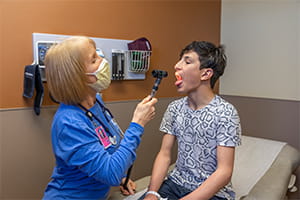 Adrien Matadi is a Denver Health Refugee, Immigrant, Migrant Care Navigator, which means he helps these new arrivals navigate through the health care system, breaking down barriers to getting the care they deserve. "I came here as a refugee myself and I really know the importance of being there and giving help to those who cannot advocate for themselves," said Matadi, who came from the Democratic Republic of the Congo, speaks six languages and has lived in five countries. "We want to make sure that everyone gets equal access. Getting everyone access to health care helps the whole community be more healthy."

"The work that we do at Denver Health through the Afghan Refugee Clinic has solidified that this is an anchor institution for Denver and the surrounding community and all of the refugees that are now coming in as well," added Greising.
Noorulah Alokzai, who worked as a chef in Afghanistan, came into the Denver Health Afghan Refugee Clinic on a recent Saturday with his family, including his three-year-old daughter Sideeqa and ten-year-old son Rohullah. After getting his whole family screened at the clinic, Alokzai said through a Pashto interpreter that he noticed a real difference in the doctors in the United States versus in Afghanistan. "Over there, the doctors are just doing it as a job and some of them, they really just want to take care of their own. But here (at Denver Health) they take care of everyone."
Dr. Young talked to FOX31 News about the importance of taking care of all refugees moving to Denver, including those who could potentially come over from Ukraine as a result of the Russian invasion. When talking specifically about the Afghan Refugee clinic and the extra weekend care added, she acknowledged the work involved and state involvement (from the Colorado Refugee Services Program and the Colorado Department of Public Health and Environment), as well as a larger goal. "I hope this will ultimately improve care for all of our immigrant populations at Denver Health."

So far, Denver Health has seen more than 450 Afghan arrivals at the Afghan Refugee Clinic, with more expected through the summer.

Matadi said it is a great thing to have so many health care workers willing to give up their weekends and come take care of these new Denver residents. "This team is a great team to work with and we just want to make sure that no Afghan refugee is left behind."
Update: International Officials Learn from Refugee Response Team
On March 30, Denver Health's Refugee Clinic hosted visitors from around the world, who came to learn how Denver Health screens our refugee patients.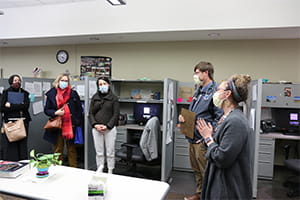 About 20 people who work on refugee resettlement in their own countries (including Australia, Switzerland, Belgium and the U.K.) toured the Lowry Family Health Center's Refugee Clinic and heard from Denver Health providers and Refugee, Immigrant, Migrant Care Navigators about the successes and challenges of treating this unique population.
The delegates plan to use the information gathered at Denver Health in how they treat refugee patients in their own countries. The visit was sponsored by the
U.S. Department of State Bureau of Population, Refugees, and Migration
and the
Refugee Council USA
.
For more information on statewide resources for Ukrainian, Afghan and all refugees, please visit the Colorado Refugee Service Program website.