Increasing Children's HPV, Other Vaccination Rates Through Unique Collaboration at the Dental Office
June 24, 2022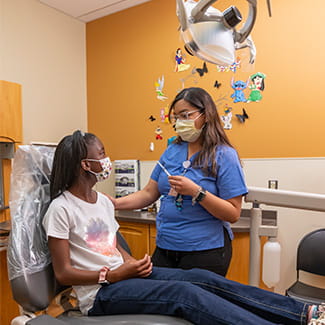 Denver Health and the
Public Health Institute at Denver Health
are working to increase children's vaccination rates in a unique way. Traditionally, vaccines are given during a primary care visit - but now our primary care providers are collaborating with Denver Health pediatric dentists to give out vaccines against human papillomavirus, meningitis, tetanus, diphtheria and pertussis.
Denver Health is one of 20 winners nationwide of a $25,000 federal grant to increase pediatric vaccination rates and well-child visits. Denver Health's concept of vaccinating children from the dental chair was born about in response to a decline in pediatric vaccinations due to the COVID-19 pandemic.
Denver Health pediatrician
Jessica Jack, MD
and dentist
Scott Hamilton, DDS
are leading the collaboration, citing statistics that kids ages nine and older are more likely to see their dentist than their primary care provider. During the six-month pilot for the grant competition, the providers saw a five-percent increase in pediatric vaccination rates.
"Our program was showcased as one of the top three winners, and our process will be shared with other clinics nationally. It's amazing to think that what we did here at Denver Health could impact vaccination rates across the country," Dr. Jack said.
Partnership between colleagues who share a common vision played a leading role in their success. "Denver Health has proven to be a great place for dentists and physicians to work together. This is just one example of our collaboration to improve the health of our patients," Dr. Hamilton added.
See how a pediatric vaccination during a dental visit works in this FOX31 News story
.
Thanks to the award money, the dental vaccine program is now in
all six of Denver Health's Family Health Centers with dental clinics
and more than 150 children have been vaccinated since April 2022.
Learn more about HPV and the HPV Vaccine in this blog.