Denver Health Launches "Safety for All" Campaign
March 09, 2023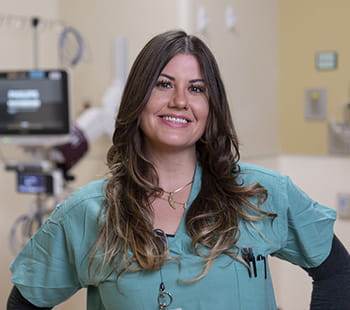 In the coming months, patients, employees and visitors to Denver Health's main hospital campus and community health centers will notice new physical signs and digital displays, asking for everyone to do their part to keep Denver Health a safe place for all and to look out for others. The "Safety for All" campaign will feature screensavers on Denver Health computers, social media posts and messaging in Denver Health's weekly email newsletter to staff.
This comes after a spike nationwide – including many incidents at Denver Health – of assaults on health care workers. Anyone working in health care is five times more likely to be assaulted than in other industries. The goal of this campaign is to do everything we can to protect our staff and to better communicate to our patients and visitors the consequences if they disrespect or harm our staff, visitors or other patients.
Any disrespectful behavior – including destroying property, yelling/swearing, insulting someone's race/ethnicity/gender identity/religion, threatening others, attacking others and using illegal drugs/alcohol/marijuana/tobacco/e-cigarettes on campus – will be reported to Denver Health security.
As a support, staff will receive education and special scripting on how to deescalate potentially violent situations.
"We are committed to a safe and supportive work environment for our employees," said Donna Lynne, DrPH., Denver Health CEO. "This campaign is to remind patients and their families of the respect and value our staff must be shown throughout our health care system."
Denver Health Chief Nursing Officer Kathy Boyle told the Denver Gazette she has read far too many reports of violence against health care workers – a problem she said is common at every hospital right now.
"This messaging is a great step toward letting employees know we support them and their experience in the workplace," said Kristofor Sharp, Denver Health's Director of Safety and Security. "We have made our employees the priority. The campaign also begins to dissolve the belief that many of the behaviors we see frequently are not a 'part of the job' but an issue that should be addressed."
"Our goal of providing tools like this signage is to increase education of resources available and provide ongoing support to our employees," added Benjamin Hummel, Westside Family Health Center Nurse Manager. "Together we can continue to move the needle and create a culture shift for Denver Health employees and patients to feel safer."
Denver Health is a place of comfort and healing, and everyone is expected to be respectful and kind to all. These expectations are for all who visit or get care at Denver Health. Violators will be asked to leave; visitors will be restricted if needed; and security or police will be called.
To make a report to security, please call 303-436-7444.