What I Learned About My Heart as an Endurance Athlete
August 01, 2017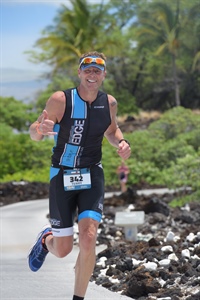 By Terry Nugent
Former NFL player and Denver Health patient

I've always been kind of a hardcore endurance athlete with an NFL background. I played college football at Colorado State, and then chased the NFL around for a few years between the Cleveland Browns, the Indianapolis Colts and my last stop, training camp with the Denver Broncos. That's a tough business to be in, but it's the only thing I've ever known.
After my NFL career, training and working out continued to be part of my life. I'd seen the Ironman Triathlon on TV and I knew I wanted to try it one day. So, back in 2001 was really when I first started going after it. I've now done the Ironman Hawaii five times and took third in the world in my age group in 2011, which is rare for a guy who's 6'4" and 210 pounds. The sport is really designed for guys who are 150 to 160 pounds, not 210. I work hard and train very, very, very hard under my coaches' direction. It's just the way I'm wired.
But, at the same time, I didn't know what the impact would be to my heart. There weren't a lot of studies in 2002, or quite frankly even five years ago, about the health impact on endurance athletes. In fact, there's still a lot of research to be done on the health of tall, male endurance athletes.
Making Things Happen
Beginning in January 2017 and into February, I noticed a significant change in my fitness. I was tired all the time and my resting heart rate, which is usually in the high 40s (beats per minute), was off. For me, to be working really hard on a 10-mile run, my heart rate would normally be at 130 bpm, but it was racing at 170, 180. In one relatively tame spin class, my heart rate hit over 190 bpm and I knew something was up, but I didn't know what.
I was referred to Dr. Brian Stauffer at Denver Health, who's also an endurance athlete and cardiologist. Dr. Stauffer, who later became a very good friend of mine, was awesome and he moved his schedule around to accommodate me. He spent a good hour and a half with me, and found out that I was living with atrial fibrillation, or AFib, which meant I had an irregular heartbeat.
A few days after that initial appointment, I was scheduled to go to Thailand, Vietnam and Cambodia. Dr. Stauffer consulted with my brother who's a doctor out in California and together they decided traveling overseas with AFib was not advisable. They wanted to get me into Denver Health for a procedure to get me back in sinus rhythm, which first elevates my pulse rate to help my heart get back to beating regularly without strain. And son of a gun, Denver Health made that happen.
From a scheduling perspective, Denver Health's Kay Wells was fantastic at communicating with me, getting me on the schedule and working with the doctors to make sure I could get in there. And literally two days before I was flying overseas for a two-week period, they got me in, did the echocardiogram to measure my heart and make sure there were no blood clots, and went ahead and gave me a defibrillation. Sure enough, it put me back into sinus rhythm, and they put me on blood thinners for the next 30 days. Dr. Stauffer and I even communicated a couple of times while I was overseas because he cared enough to check in on me.
By the first week of March, I had decreased my amount of exercising. I always feel my day isn't really complete unless I get a training session in — most likely I do two sessions. I don't do these triathlons as bucket list events, I do them to compete so I'm not in it to just say I crossed the finish line. So, changing things up after the procedure was a really hard pill for me to swallow. I had to change my training and diet, and be careful of alcohol and caffeine intake. I learned I've got this enlarged heart after all these years, and if you think about working a muscle, my heart is growing bigger and bigger, and again if you're taller, you're blood has to travel a longer distance to pump, so that was a big wake up call for me.
You know this had me thinking if you hurt your knee, or jack up your ankle or have a bruised hip, those things can be fixed. The heart is a different deal. Denver Health did their best to put their arms around me and say, "OK, you know you're not the first guy, and you won't be the last guy — we've had several high performance endurance athletes that have come in here at a wide variety of ages."
But you know the hardest part to understand was that the doctor was telling me these things as if I were a 75-year-old. Blood thinners, AFib… I still very young at heart and this had me feeling like I'm elderly, and that's just a byproduct of all the years asking my heart to do things it's not typically used to doing. So I really did learn there is risk with over exercising.
A Change for the Better
These guys at Denver Health have been unbelievable about coming in, and saying, "Here's what's caused it, here's what we know and here are the risks moving forward." They gave me some different training protocols to think about.
My coach and I reduced the endurance, the amount of time, and increased the intensity, which really reduced the workload on the number of hours training and my heart. It was really weird for me, because I've always been the guy who if I'm not doing 20 to 22 hours a week of training and doing four- or five-hour bike rides, than something's wrong.
So, on June 3 of this year I traveled to Hawaii for their half Ironman with no expectations. Because I had trained differently now, I told myself I wouldn't let my heart get jacked up for five hours and go back into AFib. Well, sure enough, the gun goes off, and my instincts took over. I decided then and there this would be another competitive race. After all that training and protocol from what the docs at Denver Health helped me with allowed me to go out there and win my age group and take 32nd out of more than 1,500 competitors. I don't think my heart ever got elevated at a high rate until maybe the last two miles of the run.
After that I came back and Dr. Stauffer was of course there to check on me with a follow up, and he was fired up for me.
That's the thing about Denver Health — they take the time. You're not just a number to be punched and be sent out the door, and that was a breath of fresh air for me. Quite frankly, I could pick anywhere to go. I have clients, who are doctors, and I could have used any referrals from them, but I chose Denver Health because my buddy referred me to Dr. Stauffer. He's an endurance athlete and knew he would take the time to work with me to identify what was going on. If I've got a question regarding overall heart health, I know Dr. Stauffer will help. He's a former cyclist and just a good guy all around. Denver Health is lucky to have him.
From here on out I'm staying with what Denver Health has told me to do, and I'm hoping that it will eventually lead to more work on tall, male endurance athletes. No one is sure that the training I'm doing now is going to still cause the heart to grow in size and what kind of risk there is going back into AFib. It doesn't mean I can't go back into AFib, it means I've learned how to manage it.
These guys at Denver Health know what they're doing. It's one thing to say that, but for a guy like me who's results driven, it's another thing to actually see the results to back it up. I think like most type A personalities who are endurance athletes driven by performance, and by their workouts, we tend to let our egos get in the way of perhaps identifying what the bigger picture may be from a health perspective. So the advice I would give to every male endurance athlete who's been doing this sport —whether it's ultra-running, cycling, triathlons or marathons — is to take the time to go see a cardiologist and have your heart looked at, even if you're not having any issues. Just go check it out. I'd hate to have everyone call Dr. Stauffer up because his docket would be full. But, the reality is, you should start with the doctors at Denver Health.