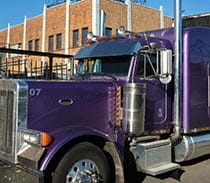 The Center for Occupational Safety and Health provides Commercial Driver's License (DOT and non-DOT) physical exams to companies and their employees. All providers are certified through the Federal Motor Carrier Safety Administration National Registry.

Our medical examiners perform a physical fitness determination to ensure that a commercial vehicle operator satisfies all of the CDL physical requirements defined by the U.S. Department of Transportation. Commercial drivers who satisfy their physical fitness determination receive a Medical Examiner's certificate. Commercial vehicle operators must always carry a valid physical examination card while they are on duty.

If you are being treated for diabetes, hypertension, or obstructive sleep apnea, you may be asked to provide additional information from your primary care provider.