A Moment of Peace for Sly
June 14, 2017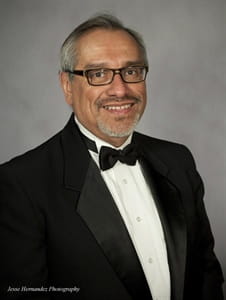 On Sylvester "Sly" Reza's last day of life, his favorite tenor, baritone and bass vocalists filled the care room at Denver Health. As the group of 20 stood around his bed with tears in their eyes, taking in every last detail of Sly's last moments, one a capella voice rang out singing "Peace, Peace, Peace."
After decades of battling HIV, Sly, a well-loved tenor who could effortlessly sing the high A- and B-notes in the Denver Gay Men's Chorus, lost his fight with the virus following years of no treatment and a decision to stop taking his medication.
It was two years ago when fellow chorus member and friend, Thomas RuBane, noticed Sly didn't look as if he felt so well at a Christmas concert. Then, weeks went by and no one heard from him. When RuBane went to Sly's apartment to check on him, he found him ill, and he was immediately rushed to Denver Health.
Everything moved fast, RuBane says. In the Medical Intensive Care Unit at Denver Health, Sly's physician team had few options after discovering his heart was failing. They began preparing him for end-of-life treatment.
Once word spread, visitors from the 100-plus member chorus began pouring into his room for support.
"Denver Health would tell us only two visitors per hour — but then understood why Sly needed more in that room," chorus member Michael Sattler recalled. "As soon as he went on the breathing machine, they allowed more of us in."
At Denver Health, the mission is a commitment to care is for ALL — supporting and offering affirming providers to LGBT patients in all aspects of care.
In numerous hospitals across the country, visitation is often non-existent for LGBT patients' family and more so for non-family members and friends, which is why the Healthcare Equality Index was created. The index, which has been a quality care benchmark for 10 years, recognizes 1,619 health care facilities nationwide for putting a focus on patient rights, visitation, decision-making, culture competency training and employment policies and benefits.
Denver Health is recognized as one of these facilities and continuously deemed a leader in LGBT health care equality by the Human Rights Campaign (in fact the only hospital in Colorado to receive that designation). Even prior to the launch of the new LGBT Center of Excellence at Denver Health, staff has been dedicated to providing exceptional services and care for LGBT patients and visitors, ensuring no discrimination takes place.
Denver Health is proud to be able to care for all patients in ways that respect their rights and individuality — and that of their friends and family, whoever they may be.
Although the day the tight-knit group of chorus members lost Sly was extremely hard, RuBane says you could really feel the love in the room.
"It was one of the most beautiful things I had ever seen, but never something I ever wanted to see again," he said. "Sly was always very dedicated to the chorus. He was the kind of guy who was always social, often going out of his way to arrange dinners and happy hours to get people together, and often the social glue that held different people together."
An estimated 1.2 million people in the United States live with HIV, and with advancements in treatment, those infected are living longer, healthier lives. Denver Health's LGBT Center of Excellence and Denver Public Health's Center for Positive Health provides HIV testing, care and treatment including proctology, dental, medication, mental health and social work services. Denver Public Health also offers same-day appointments for patients who are present and a financial assistance program for those without insurance.
Losing Sly to complications from HIV was harder than Sattler could ever imagine, he says.
"This is your life and there are people out there who will do what it takes to take care of you," Sattler said. "This poses as a good reminder that our chorus really is family and it was important that everyone could be together that day. But it's also a good reminder that taking care of yourself is necessary."