Rehabilitation is the recovery process of managing your pain and regaining physical function following an injury or surgery. Increasing your strength, flexibility and ability to move are major goals of rehabilitation, and it takes dedication and hard work.
At Denver Health, your rehabilitation will be managed by a team of experts in physical therapy, occupational therapy and speech therapy. The role of a therapist is to help patients regain function, such as mobility, self-care and communication.
Our services are provided to both inpatients and outpatients, and our therapists work with you and your family or caregiver to promote your safety and well-being following discharge. Occupational therapists can help you regain your independence and effectively handle the tasks of daily living.
Our Services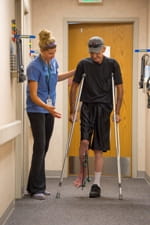 Adult & pediatric wheelchair clinics
Amputee brace clinic
Breast cancer rehabilitation
Early intervention community speech group
Hand therapy
Major multiple trauma rehabilitation
Orthopedic pre-operative clinic
Orthotics clinic
Traumatic brain injury rehabilitation
Spinal cord injury rehabilitation
Work rehabilitation and pre-employment screening