After Debilitating Car Crash, Finding Peace Again
February 16, 2017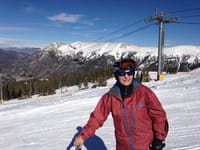 By Ursula Kazmaier
I arrived at Denver Health by ambulance, with no clear idea of what had happened to me. I would later recall that I was thrown from my Subaru after being t-boned by a truck when running a red light with no seatbelt — distracted while trying to put my cellphone back into my purse.
(Let me say ahead of time that I reconstructed the following events of my Sept. 20, 2010, accident during recovery and from accounts of friends. Thanks to my brain on "flight" mode when something traumatic happens to me, I had no immediate recollection of the accident or some events afterward.)
At the hospital, I was taken care of by the surgical trauma team and resuscitated after a large amount of blood loss, splenic laceration and severe chest trauma from extensive broken ribs. I was immediately given a breathing tube and a chest drain was put into place. The doctors decided I was too unstable for surgery on an ankle injury and put me on a surgical schedule for the next day. I was then returned to the Surgical Intensive Care Unit for further resuscitation and workup on my severe chest and abdominal injuries, where Dr. Philip Stahel was my attending surgeon. Denver Health neurosurgery colleagues assisted on my cervical spine and occipital condylar injuries. They let me know the extent of my fractures included a left humeral fracture, complex left ankle fracture, left tibial plateau fracture, skull fracture and multiple rib fractures, and that orthopedic follow up would be delayed until the bleeding in my chest and abdominal subsided.
I was cleared for surgery five days later after recovering from respiratory arrest, with intubation and a tracheal tube there to help me breathe. Dr. Stahel made sure to personally call my sisters in Germany to update them on my status and received consent for my procedures. My youngest sister Sabine, a cardiac ER nurse, arrived in Denver with comforting family photos to later ease my pain. A long-time friend, Pam Shaw, set up a Facebook page on my behalf. My guardian angel, Tracy Maddox, who happened to witness the accident, helped by communicating details to my network of friends. I myself was new to the Denver metro area after moving there in January 2009, with just a few new friends and coworkers, so all of the help I received was greatly appreciated.
I finally regained full consciousness a week after arriving at Denver Health and was transferred from intensive care. Dr. Stahel and Dr. Adam Seidl's orthopedic team helped heal the tibial plateau fracture of my left knee that October. Unfortunately, prior removal of my anterior cruciate ligament (ACL) resulted in an unstable knee, which meant I couldn't bare weight on it for six to eight weeks.
After being discharged from the four-week intensive inpatient therapy program, I qualified for home and outpatient therapy and recuperated during a snowy winter in my apartment, cared for by friends and coworkers. Luckily, there was no psychological or psychophysical disorder, nor any vision disorder from the head trauma. I began learning to walk again in the spring, and even went shopping using an electric cart with friends. I improved muscle tone by pool exercises, my main exercise regime for months.
Meanwhile, ankle sensitivity and limited range of motion of my left knee and arm were impediments to returning to work. When I finally returned to work on a limited basis, I found myself totally exhausted mentally and physically, experiencing symptoms of post-traumatic stress disorder (PTSD), insomnia and a constant inexplicable "feeling sorry for myself" way of thinking.
It soon became clear that I no longer was capable of shouldering the responsibilities of my former job, so I resigned. After two years of being unsuccessful at trying to obtain a full-time office job, I accepted a position as a water aerobics instructor to improve my own physical weaknesses. I now teach a class to help others, four times a week. I also received the opportunity to help the mother of an aqua participant with her morning activities of daily living, and am now an independent personal/private caregiver for seniors.
In addition, to further enhance my mobility, balance, strength and posture, I began teaching "Silver Sneaker Yoga Stretch" and plan to instruct a "Tai Chi for Balance" class. I started skiing greens and blues again, which was my true passion and reason to move to Colorado from New Jersey in the first place. Now that I've had a successful knee replacement, I hope to conquer challenging slopes, experience lots of powder and dabble in road biking.
I am truly grateful to Denver Health for the excellent care I received, to my friends for helping me through four years of adjustments both professionally and personally and to my higher power for keeping my sane.