Denver Health's "Miracle Man": How a Denver Judge Survived Stabbing in Heart
May 03, 2022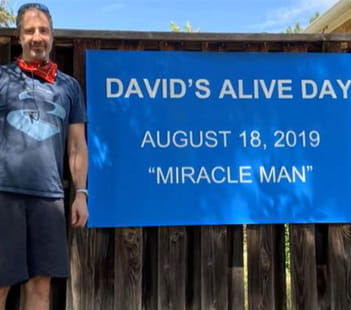 Denver Judge David Blackett has a nickname around Denver Health. Doctors, nurses and medical workers call him their "miracle man" because he very nearly died one night back in 2019. Judge Blackett was working in his garage that night when he was the victim of a random stabbing. The attacker stabbed him the heart, to the point that he had no heartbeat, no pulse and wasn't breathing.
"There were so many things that had to go right for me to make it," Judge Blackett told
CBS Denver
.
Denver Health paramedic Jessie Flippin was among the first to try to bring him back to life. She said she could not feel a pulse or a heartbeat so she asked firefighters to start CPR. She then rushed him to Denver Health and by the time he arrived, he was technically dead.
But Judge Blackett defied the odds and survived the terrifying and near-deadly attack, thanks to a miraculous effort by
Denver Health's Level One Trauma team
who brought him back to life.
Denver Health trauma surgeon Ryan Lawless, M.D. began cutting Judge Blackett's chest open even as the patient was being wheeled in. "He came in lifeless without a pulse," said Dr. Lawless, who acknowledges there was no time or avenue to administer anesthesia. "I immediately saw a hole in his heart, so I held his heart in my hand and I put my thumb over the hole," said Dr. Lawless. "That's when his blood pressure came back and his heart started beating again." He sewed around his heart, repairing the hole.
Judge Blackett said as he recovered in the hospital, numerous hospital employees who assisted with his case came to visit him using that nickname "miracle man." He said his case has shown that even the most desperate patient can be saved. "From Dr. Lawless down, they had the mindset that it doesn't matter how bad this person is hurt, we're going to try."