From Two Percent Chance of Survival to Thriving Mother
July 10, 2018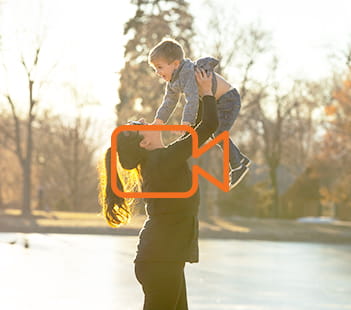 By: Denver Health
Just after turning 17, Jourdan Block was involved in a severe car crash on New Year's Eve, 2001, when the vehicle she was riding in crashed into a tree in Denver. Block went to school with Dr. Ernest E. "Gene" Moore's sons, who heard about the crash involving her and other classmates and immediately called their dad to come down from the mountains to treat her. Her injuries included a shattered pelvis and a burst bladder; both were, at the time, considered to be some of the worst injuries of their types in the country.
The crash put her in a drug-induced coma for three weeks with a two percent chance of survival. She wasn't supposed to be able to have a child or walk again. After her treatment at Denver Health by renowned trauma surgeon Dr. Moore and urology surgeon Dr. Fernando Kim, Block went on to walk again, attended and graduated high school, fashion school and graduate school, become a gemologist and jewelry consultant and give birth to her nearly two-year-old son Jaxson. She recently moved back to the Denver area to raise Jaxson and has started an online blog about life as a single mother called "Jaxson's Journeys." She says Dr. Moore and Denver Health "saved my life."
Block shared her story as Denver Health announced the renaming of its Trauma Center as the Ernest E. Moore Shock Trauma Center at Denver Health. Dr. Moore is an internationally renowned trauma surgeon and the Director of Surgical Research at Denver Health. Under his leadership, Denver Health pioneered Colorado's first academic Level 1 Trauma Center – advancing the dedicated study to trauma care and research. Since then, Dr. Moore has become internationally recognized as a "godfather" in the field of trauma.
Denver Health thanks Dr. Moore for his years of dedication to saving lives. We're proud to carry his name. And we've always believed our patients deserve Moore.