Dedication of the Ernest E Moore Shock Trauma Center at Denver Health
July 10, 2018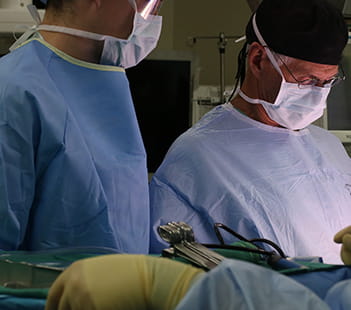 Denver Health is thrilled and honored to announce the renaming and dedication of its Trauma Center as the Ernest E. Moore Shock Trauma Center at Denver Health, after Denver Health Director of Surgical Research Dr. Ernest E. 'Gene' Moore. The dedication came at a special ceremony on July 10. During his more than four decades of continued service at Denver Health, Dr. Moore has achieved international recognition as a "godfather" in the field of trauma. Under his leadership, Denver Health pioneered the state's first Level 1 Trauma Center – an academic commitment to advance the study of trauma care and research worldwide.
Countless current and former Denver Health patients credit Dr. Moore with saving their lives, including Denver Police Sgt. Tony Lopez and Jourdan Block.
Dr. Moore began his career at Denver Health in 1976 and served as the Chief of Trauma, Chief of Surgery and the first Bruce M. Rockwell Distinguished Chair in Trauma Surgery before his current role as Director of Surgical Research. He also serves as Vice Chairman for Research and is a Distinguished Professor of Surgery at the University of Colorado Denver, a Denver Health partner hospital. Dr. Moore is co-author of Trauma and the editor of the Journal of Trauma and Acute Care Surgery, both leading publications in the field of trauma.
The Ernest E. Moore Shock Trauma Center at Denver Health is one of the nation's leading Level 1 Trauma Centers. With one of the highest survival rates in the country (98 percent) for the most severe injuries, the Center is both nationally and internationally recognized for innovative care of the injured patient. Denver Health's skilled and specialized trauma surgeons have written much of the key literature in trauma today.
Denver Health is the leading trauma referral hospital in Colorado and serves six neighboring states in the Rocky Mountain Region, managing all types of trauma cases for both adult and pediatric patients. Denver Health's trauma research laboratory has been funded by the National Institutes of Health for 30 consecutive years.
As the only Level 1 Trauma Center in the city of Denver, some 18,000 trauma patients come through the Ernest E. Moore Shock Trauma Center annually. More than 2,700 trauma patients are admitted annually and the Center receives transfers from more than 60 regional hospitals.
Denver Health has a long history of providing the most advanced trauma care. Since 1860 (our first trauma patient arrived by horse after a gunshot wound from a duel), the trauma center has remained a pioneer in trauma care. As the first Trauma Center in Colorado, Denver Health was just re-verified and designated as a Level 1 Trauma Center by the American College of Surgeons and the State of Colorado, continuing a long legacy of providing care for the most severely injured.