Shot Six Times and Saved at Denver Health
October 18, 2018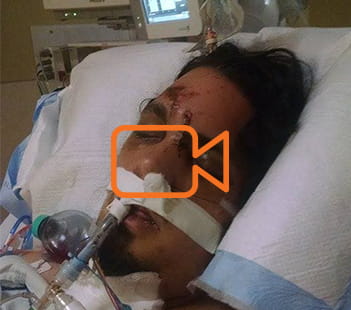 January 6, 2016, started as a night just like any other for Robert Currie. That all changed in a matter of minutes.
Currie was at his home when he said, "four guys burst inside, intending to rob me at gunpoint." He doesn't remember much about that home invasion except for the gun going off and then everything else going "blank." He also remembers telling a paramedic, "don't let me die, it's not my time to die yet."
The active construction worker and part-time musician was rushed to Denver Health with six gunshot wounds – one on top of his head, two between his eyes, another grazed his nose, another in his elbow, the fifth through his wrist and thigh and the last one in his backside. He had a
closed traumatic brain injury
, shattered jaw, missing teeth and a bullet lodged in his chest, among other injuries.
After three weeks, Currie awoke to what he calls "the worst pain I have ever experienced." He said that's when he found out first-hand about the high quality of care at the
Level One Trauma Center
at Denver Health. "If not for them, I wouldn't be alive," Currie said.
He was terrified that he would never be able to walk again. Currie credits Denver Health's Chief of
Rehabilitation Medicine
, Michael Blei, M.D., and his team for getting him back on his feet again.
"He had this drive ... and even though he was struggling, he pushed himself forward," remarked Dr. Blei, crediting Currie's determination for his remarkable recovery.
Currie is now back to working 40 hours a week in construction, studying martial arts, playing softball, working out and playing his guitar.
"It is so rewarding to see Robert come back from an injury and get this far," said Dr. Blei.