Denver Health's eleven-member Board of Directors are appointed by the Mayor of Denver. Board members serve five-year terms and direct Denver Health's activities, which includes financial management; education and quality assurance; and, personnel and compensation.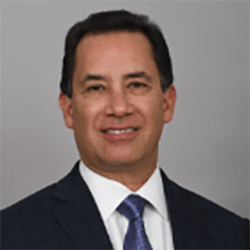 Jim Chavez
Jim Chavez is the executive director of the Latin American Educational Foundation (LAEF). LAEF is a Colorado-based non-profit, providing college assistance and guidance to Colorado's Latino students and their families, including direct scholarship support. Established in 1949, LAEF is Colorado's oldest Latino non-profit. Jim has dedicated much of his professional life working for education related causes. As a board member and staff member of the Colorado Student Obligation Bond Authority, Jim was instrumental in creating Colorado's first prepaid college tuition program, which became known as College Invest, and then worked across the country to develop and implement numerous state college savings programs or Section 529 plans. He began his career as a certified public accountant with the firm Ernst & Young.
Jim is dedicated to improving the quality of life of those who live in our communities, and has a particular focus on diversity, equity, inclusion and equality efforts within organizations as critical means to better outcomes for organizations and the broader community. Currently, Jim is a member of the Board of Commissioners for the Denver Housing Authority (past Chair), and a member of the Board of Directors for the Colorado Non-Profit Association. He is a Colorado Commissioner to the Western Interstate Commission for Higher Education. Jim is a former Trustee for the Clayton Early Learning Center, past board member for the Rocky Mountain Public Broadcasting Corporation, and a past member of the Board of Trustees for the University of Northern Colorado (Vice Chair).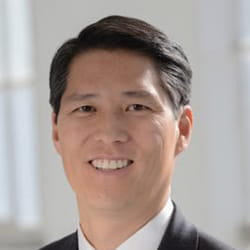 Thomas M. Kim
Mr. Kim is a Managing Director and founder of r2 advisors llc. During his tenure with r² advisors, Mr. Kim has worked with numerous clients who were addressing some form of operational or financial distress. He has served in senior leadership roles with clients undergoing turnarounds, bankruptcies, sales and liquidations.
Prior to founding r2 advisors llc, Mr. Kim was employed by a private investment company that invested in special assets transactions. Mr. Kim began his professional career as a bankruptcy lawyer, primarily with an international law firm, where he worked on complex restructuring and transactional matters.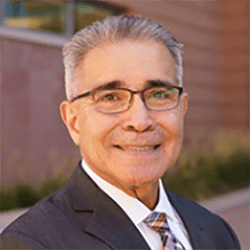 Dr. Elias Provencio-Vasquez
Dr. Provencio-Vasquez is a highly experienced nurse educator, eminent researcher and proven administrator. With over 40 years of health care experience, he contributes a tremendous amount of knowledge to the College of Nursing both as a dean and a professor. Provencio-Vasquez is internationally renowned for his pioneering work in neonatal and pediatric care and in women's health, with a focus on Women at Risk for substance use/abuse, high risk sexual behavior and intimate partner violence. During his career, he has served as a clinical nurse, a nurse researcher, a nurse educator, school administrator, and a pediatric and neonatal nurse practitioner. Provencio-Vasquez is also a Robert Wood Johnson Executive Nurse Fellow alumnus and a Robert H. Hoy III Distinguished Professor in Health Sciences.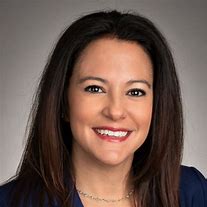 Hollie Velasquez-Horvath
After graduating from Regis University, Hollie Velasquez Horvath emerged into the political fundraising arena. She worked as a Political Manager and Fundraiser for over ten years at the city, state, and federal level in Colorado. Her past client list includes Governor John Hickenlooper, State Treasurer Cary Kennedy, State Senate President Brandon Shaffer, U.S. Senator Mark Udall, Congressman John Salazar, Governor Bill Richardson, the Democratic Governors Association and Secretary of Interior Ken Salazar.
In 2010, Hollie served as Deputy Campaign Manager on for the successful campaign to elect John Hickenlooper and then led his Inauguration Celebration. Hollie also worked with several community leaders on campaigns for state and city referenda such as Preschool Matters, ProComp, and campaigns for education reform in Denver. Along with working for Democrats in Colorado, she has worked as a consultant to help start up finance operations for Denver area nonprofits like the Colorado Children's Campaign and Assistive Technology Partners. In 2011, Hollie changed career paths, joining the External Affairs department of Xcel Energy as the Manager of Political Engagement. In this role she managed external engagement teams in Colorado and Minnesota.
Hollie was promoted to Senior Manager of Political and Civic Engagement in 2013. In this role she was responsible for a companywide external engagement brand, Positive Effect. She also managed the Xcel's political giving. Hollie was recently promoted to Xcel's Director of Community Affairs. She now leads a team responsible for managing city political relationships, economic development activities, and social investments for Colorado (i.e., corporate sponsorships, the company's foundation, and employee community engagement). When she is not with family and friends, Hollie volunteers for nonprofits. She Chairs the Hispanic Chamber of Commerce and Blue School Partners boards, and serves on boards for the Children's Museum of Denver and was appointed by Governor Hickenlooper to serve on Great Outdoors Colorado.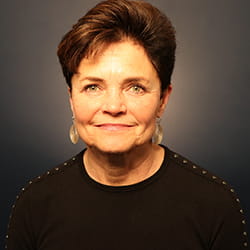 Patti A. Klinge
Patti Klinge has over 30 years of experience in human resources management. She most recently retired from the position of Executive Vice President, Human Resources at AT&T Broadband, a communications company with $10B in revenues and 50,000 employees. In this role she was the senior officer leading all aspects of the Human Resources function. Prior to the merger of AT&T and MediaOne Group, she was Senior Vice President and Chief Human Resources Officer of MediaOne Group, a $7B global broadband communications company. Previously, she held senior human resources positions at New Vector Group, Inc., Chase Manhattan Bank and R.R. Donnelley.
Patti is actively engaged in the Denver community. She is currently serving on the Denver Health Authority Board and the Advisory Board of the Center for Women's Health Research at CU Anschutz. Previously she served as Chair of the Board of Trustees of the Women's Foundation of Colorado and co-chair of the Board of Directors for the Career Services Authority of the City and County of Denver. During her tenure on the Board of Florence Crittenton Services she served as Board Chair and Interim CEO. She is a past member of the Board of the GLBT Community Center of Colorado where she also served as Board Chair. In addition, Patti ran a part-time psychotherapy practice for several years, providing services to low income clients.
Klinge holds a Master's degree in Labor and Industrial Relations from Michigan State University, a Master's degree in Counseling Psychology from the University of Colorado at Denver, and a BA in Sociology from Nazareth College. Additionally, she is a licensed psychotherapist.
Klinge lives in Denver with her partner, Connie McArthur. She enjoys adventure travel with fun friends, along with biking, cross country skiing, hiking, and golf.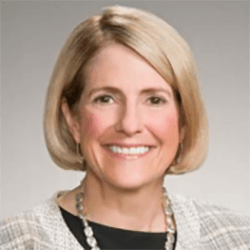 Pia Dean
Health care law, in all its many aspects, is Ms. Dean's passion. Her desire to better serve her clients and understand healthcare laws and regulations in depth led her in 2010 to return to school to begin obtaining her masters of law (LL.M.) in health law. Her education, coupled with her years representing clients in health law related matters, provide her clients with sophisticated counsel on a wide range of issues, including healthcare transactions, regulatory matters, practice formation, government investigations, medical ethics, and physician integration. Pia has practiced law for over 30 years, specializing in litigation and health law. She graduated with honors from University of Denver College of Law in 1988, when she joined Holland & Hart LLP (partner, 1988-2016). In 2015 she earned her L.LM. in Health Law from University of Loyola Chicago School of Law.
She is immersed in efforts at both the federal and state levels to reform healthcare and address its rising costs. She has extensive knowledge of the Patient Protection and Affordable Care Act, health benefit exchanges, accountable care organizations, and Medicare/Medicaid reforms. Pia founded Medical Legal Partnership in 2015 and has served as its volunteer Executive Director since its inception. She has served on the board of Directors for Colorado AIDS Project (Leadership Award recipient 2000) and Craig Hospital. She currently serves on the Board of Directors for Denver Health and Hospital Authority and is a Trustee for the Colorado Hospital Association. A native of Colorado, she is passionate about social justice and equal health access for all Coloradans.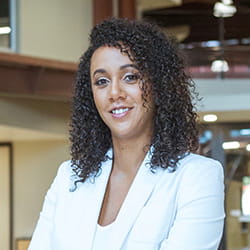 Danielle Shoots
Danielle Shoots is the Managing Partner and Managing Director of the New Community Transformation fund – Denver, an equity venture capital fund for BIPOC founders and the President and CEO of Wealth Equity Enterprises, a holdings company that owns several businesses that support the mission of building BIPOC wealth and leadership. Born and raised in Colorado, Danielle is a graduate of the University of Colorado at Denver, where she earned a degree in Business Administration.
At the age of 26, Danielle embarked on her executive leadership path ascending to the position of Chief Financial Officer (CFO) for the Colorado Department of Public Health and Environment. After the state, Danielle served as the Vice President of Finance and Business Operations for the West Division of Comcast, managing a billion-dollar capital portfolio, strategic FP&A, Mergers and Acquisitions and a team of sixty employees located in seven states. Most recently Danielle, was the Chief Financial Officer for the Colorado Trust where she grew the foundation's endowment from $430 million to nearly $600 million, reduced cash on hand to a recurring 1% while still operating the foundation. She also launched a direct investment portfolio across the State making investments in local media companies, real estate and housing and small businesses and leveraging the endowments' balance sheet for creative bridge financing across multiple sectors and industries.
Danielle's passion for people and leadership, distinguished business acumen and tenacious work ethic have garnered her numerous accolades, including inclusion on the prestigious 2019 list of the Top 25 Most Powerful Women in Business from the Colorado Women's Chamber of Commerce, The 2020 Emerging Leader in Philanthropy from ABFE, The 2018 Woman of the Year Award for her work with youth in the community, and a recipient of the 2017 Denver Business Journal's 40 Under 40 award.
Danielle is a passionate community member and serves as a trustee for the Women's Foundation, a mayoral appointed board member for the Prosper Denver Fund and the chief economic equity advisor to State Senator, James Coleman and State Representative, Leslie Harod.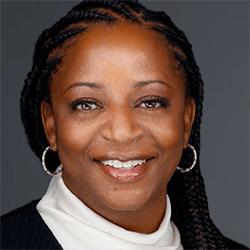 Kathy Nesbitt
Kathy Nesbitt is the Executive Director of the Office of Human Resources for the City and County of Denver. Nesbitt has over 22 years of public and private sector experience in human resources, organizational and administrative management. Prior to joining the City and County of Denver, Nesbitt was the Chief Operating & Strategy Officer for the American Diabetes Association. She also served as vice president for employee and information services at the University of Colorado, Director of Personnel and Executive Director of the Department of Personnel & Administration for the State of Colorado, Human Resources Director and Interim Vice President of Human Resources for Kaiser Permanente's Colorado Region, and Staff Attorney at Mountain States Employers Council and Qwest Communications. Nesbitt earned her Juris Doctorate from Southern University Law Center and a Bachelor of Arts from the University of Colorado Boulder. She possesses her Senior Professional in Human Resources (SPHR) certification, as well as a certificate in executive leadership from the Kennedy School of Government at Harvard University. She is a recipient of the prestigious Eugene H. Rooney, Jr., Award for leadership in state human resource management, and was named one of the Top 25 Women in Business by the Colorado Women's Chamber.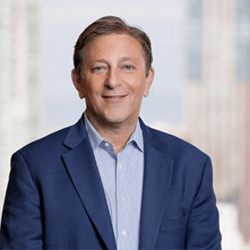 Doug Friednash
More than 30 years navigating myriad complex local and national legislative and public policy challenges. Former chief of staff to Colorado governor. Respected political thought leader.
Doug Friednash navigates clients through complicated legal, business and political issues as chair of the firm's State & Local Legislation & Policy Group. He plays a vital role as a connector for his clients, bridging the gap between the private sector and all levels of government from Colorado to governor's offices across the country and on to Washington. Doug's notable experience in the public sector—former chief of staff to Colorado Gov. John Hickenlooper, city attorney under Denver Mayor Michael Hancock, member of the state House of Representatives and assistant attorney general—has made him a unique resource with unmatched insight for his clients. He is an influential asset with a combination of deep relationships and first-hand understanding of the nuances of local, state, federal and executive government.
Doug advises clients across diverse industries and issues, including energy, transportation and infrastructure, health care, higher education, financial services, emerging regulated industries, hospitality and recreation, cannabis and hemp, COVID-19 related issues, technology, communications and media and political engagement.
He is a respected national, state and local media resource for his insight on legislative and political issues. He is also an opinion columnist for The Denver Post, covering political stories and trends.
A Denver native, Doug is committed to enhancing the well-being of Colorado. He is actively involved in many political, charitable and community causes.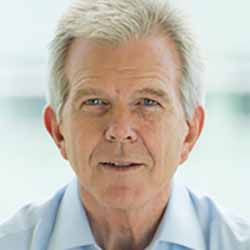 Frank Verloin deGruy III
Frank Verloin deGruy III, MD, MSFM, is a Professor in the Department of Family Medicine at the University of Colorado. Between 1999 and 2021, he was the Woodward-Chisholm Professor and Chair of that department. Dr. deGruy received his undergraduate degree from Princeton University in 1970 (sociology, religion) and his medical degree in 1977 from the College of Medicine at the University of South Alabama in Mobile. He completed a family medicine residency at The Medical Center in Columbus, Georgia in 1980 and completed a Robert Wood Johnson Fellowship in Family Medicine at Case Western Reserve University in Cleveland, Ohio in 1982. He has previously held academic appointments in Departments of Family Medicine at Case Western Reserve University, Duke University, and the University of South Alabama.
Dr. deGruy has served as president of the Collaborative Family Healthcare Association (CFHA) and president of the North American Primary Care Research Group (NAPCRG). He is on the Board of Directors and the Executive Committee of the National Network of Depression Centers (NNDC) and the Family Physicians' Inquiries Network (FPIN). For ten years (2011-2021) he chaired the National Integration Academy Council, and sits on the board of the Colorado Institute of Family Medicine. He has previously served on the editorial boards of The Annals of Family Medicine and Families, Systems, and Health, General Hospital Psychiatry and Psychiatric Times; he was an Associate Editor of the Southern Medical Journal. Has published about 200 papers, chapters, and commentaries, and has reviewed grant applications for the NIH, AHRQ, HRSA, and the RWJF. He has been a member of the Institute of Medicine (now the National Academy of Medicine) since 2008. Most of his current activities are aimed at community-based health improvement solutions, particularly for underserved and disadvantaged people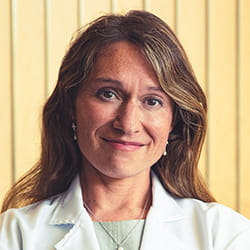 Dr. Lily Cervantes
A Denver native, Dr. Cervantes was born at Denver Health and grew up in Denver's Westwood and Valverde neighborhoods. Dr. Cervantes' lived experience and long-standing, equity-driven career makes her a critical leader on the forefront of community- and systems-level change. Dr. Cervantes is the Director of Immigrant Health and an Associate Professor in the Department of Medicine at the University of Colorado School of Medicine. Dr. Cervantes completed her medical degree and internal medicine residency at the University of Colorado School of Medicine and worked at Denver Health, providing care as a hospitalist for 14 years.
Her life's work centers on addressing structural racism, eliminating unnecessary and systemically-caused health barriers, and advocating for Coloradans who experience the greatest needs. Dr. Cervantes is recognized for spearheading the change to a Medicaid payment rule so uninsured individuals with kidney failure can access live-saving maintenance dialysis. This effort came after the passing of her patient, who was ineligible for care due to her immigration status. Dr. Cervantes describes this experience as her sentinel event, in which she realized she could use her lens and power as a Latina physician to engage in advocacy and health policy development. Following this defining experience, Dr. Cervantes' work has focused on eliminating structural racism in kidney health disparities and on increasing diversity the healthcare workforce. Dr. Cervantes has received funding from the Robert Wood Johnson Foundation (2020 Clinical Faculty Scholars Program and 2014 Harold Amos Medical Faculty Development Grant), the Doris Duke Foundation, and the National Institutes of Health to conduct community-engaged mixed methods and clinical trials to reduce health disparities faced by Latinx/a/o individuals. Dr. Cervantes has also developed pre-health pipeline programs for high school and college youth interested in health careers.
Dr. Cervantes' passion to reduce health disparities and increase diversity in the healthcare workforce in Colorado have garnered her numerous accolades, including the 2017 Unsung Heroine Award (Latina First Foundation), 2018 Health Equity Champion Award (Center for Health Progress), 2019 Florence Rena Sabin Award (University of Colorado School of Medicine), 2019 Outstanding Service to the Community (Denver Health), and the 2021 Dr. Virgilio Licona Award (Colorado Health Foundation). Dr. Cervantes has been invited to speak at over 80 events and has been interviewed on health disparities research by NPR and CNN. Dr. Cervantes currently serves on the boards for the Public Benefits Corporation of Connect for Health Colorado, Vuela for Health, Center for Health Progress, and the National Kidney Foundation.

---
The Board of the Denver Health and Hospital Authority is subject to the Open Meetings Law of the State of Colorado. The Board posts notices of the meetings that are open to the public in compliance with the Open Meetings Law. These notices are posted in the lobby of 601 Broadway where the Board meetings are held at least 24 hours in advance of the meetings.
The minutes of the Board meetings where formal action occurs are taken and open for public inspection in the Office of General Counsel once such minutes have been approved by the Board. Confidential Executive sessions of the Board may be held as permitted by the statute.