Should I Get a Flu Shot During COVID-19?
October 05, 2020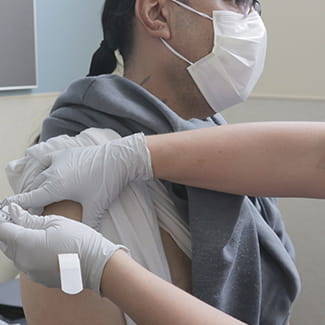 Every year Denver Health recommends that our patients get a vaccine to protect against the flu (influenza) during the fall and winter seasons. But this year, it is especially important because of the COVID-19 pandemic. The Centers for Disease Control and Prevention (CDC) predicts that both the influenza virus and COVID-19 will be spreading at the same time, creating the potential for extra strain of healthcare resources that may already be stretched thin.
What is the Flu?
Influenza, or the flu, is a contagious viral illness, which in the United States tends to occur seasonally with the highest rates in the fall and winter months. It is a very common and preventable disease which causes a significant amount of illness, and even death, every year in the United States. For example, during the 2018 to 2019 flu season in the United States, the Centers for Disease Control estimates that more than 34 million people suffered from the flu, resulting in nearly half a million hospitalizations, and more than 34 thousand deaths.
Why Should I Get A Flu Shot in 2020?
Every year a seasonal flu vaccine is released, which decreases the risk of getting the flu and can decrease the severity of symptoms in those who do get the flu. Because the flu can be a very severe, and even life threatening illness, and because it causes hundreds of thousands of hospitalizations and thousands of deaths every year, it is extremely important to get an annual flu vaccine if you are able to.
Is It Safe to Get A Flu Shot During COVID-19?
Denver Health will be offering the seasonal flu shot at all 10 of our Community Health Centers and at the Denver Public Health Immunization Clinic. To ensure your safety, and in response to the current COVID-19 pandemic, we are completing screening for all individuals who enter Denver Health facilities, including mandatory temperature checks, for all staff, patients and visitors.

We are also adhering to and enforcing the statewide mandatory mask order. See all the ways Denver Health clinics are keeping you safe during COVID-19.
Do I Need a Flu Shot if I Wear a Mask?
Some patients have been asking me, "If I am wearing a mask all the time and not around a lot of other people (safer at home) or large groups of people, why should I bother getting vaccinated?"

Both influenza and COVID-19 are highly contagious respiratory viruses. This means they can be spread through microscopic droplets in the air created by things like coughing or sneezing. While social distancing and wearing a mask can help contain the spread of these viruses, the influenza vaccine provides an additional level of protection to both yourself and the community. It's also been repeatedly demonstrated to be safe and effective.
What Is In a Flu Shot?
To understand the flu shot and how a flu shot works, it's important to understand some basics about the immune system, which is your body's natural defense mechanism against infections caused by bacteria and viruses. It is made up of a complex system including everything from microscopic individual cells to large organs such as your spleen, and even your skin. When the immune system detects foreign invaders, such as the influenza virus, it works both to stop the virus in its tracks, and also to create an early warning system to help prevent you from getting sick from the same virus in the future. To do this, it creates proteins called antibodies. These proteins then circulate in your blood, and if they recognize any influenza virus floating around, they attack it before it can cause you to become sick.

The influenza vaccine works by helping your body to create these antibodies. It is an injection of small, non-living parts of the flu virus which allows your immune system to create antibodies without being exposed to the flu virus itself.

The good news is that because the flu vaccine does not contain any living viruses, you cannot get the flu from getting vaccinated.

The most common side effects are mild, such as muscle soreness at the site of injection, and those only last a few days. The flu shot is so safe, in fact, that the CDC recommends everyone over the age of six months should get an annual flu shot.
Who Does a Flu Shot Protect?
In addition to protecting yourself from the flu, the influenza vaccine also helps protect your friends, loved ones and the community at large. The flu is highly contagious and spreads or jumps from person to person during flu season, in a chain of infection. When you receive the flu vaccine, you can help "break the chain" of infection. When a large portion of a community all get vaccinated, the flu has a much harder time gaining a foothold and causing an outbreak. Scientists call this "herd immunity" and it means that by getting yourself vaccinated, you are also helping to protect those around you. This is especially important because not everyone is healthy enough to get the vaccination.

The flu shot does not protect against COVID-19.
Flu Shot Availability at Denver Health
Dr. Kevin Depner is a primary care physician at the new Denver Health Sloan's Lake Primary Care Center, located at 4007 W. Colfax Ave., conveniently serving patients in East Lakewood, Edgewater, and Denver's Sloan's Lake, West Colfax and Villa Park neighborhoods. To make an appointment for a primary care visit (including flu shots) at the new clinic or at any of Denver Health's 10 Community Health Centers, call the Denver Health Appointment Center at 303-436-4949 or use the free MyChart app. Flu vaccines are also available by appointment only at Denver Public Health's Immunization Clinic, by calling 303-602-3520. Hours are Monday - Friday, 8 a.m. - 4:15 p.m. and same-day appointments are available in most cases.