Coronavirus Vaccine Update from Denver Health's Chief Medical Officer
November 09, 2020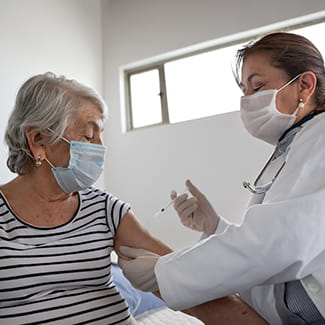 Update: Based on recommendations from the Centers for Disease Control and the Food and Drug Administration, Denver Health will resume administration of the Johnson & Johnson (Janssen) COVID-19 Vaccine. Learn more here.
Vaccinations are available to everyone age 16 and over. Denver Health will continue to vaccinate patients according to the latest state guidelines. Learn how to make an appointment for a vaccine at Denver Health.
Original article: There are a lot of questions going around right now about the COVID-19 vaccine, when it will be available, how effective it will be and who will get one first. In this article, we went straight to our experts at Denver Health to answer some of the most common questions about the COVID-19 vaccine and what the next several months and years of living with this virus and the aftermath of the pandemic are going to look like.
When Will A Coronavirus Vaccine Be Available?
Before a novel coronavirus (COVID-19) vaccine can be widely available to the public, it has to undergo a rigorous testing process to make sure that it works and doesn't cause more harm than good. Denver Health's chief medical officer and infectious diseases specialist Connie Savor Price, MD said the drug companies have been able to, "accelerate the production of a COVID-19 vaccine, but it is still in testing, and we need to complete those tests before we know for certain that it's safe and effective against COVID-19."
While it is possible to see
some vaccines fully tested, proven to be effective and available in limited supply by the end of this year
, Dr. Price said that the earliest projected date that they would be widely available to all of the public is by the summer of 2021.
How Many COVID Vaccine Doses Will Be Needed?
"We're planning right now for two doses," said Dr. Price. The Centers for Disease Control and Prevention notes that all but one of the COVID-19 vaccines currently in Phase 3 clinical trials in the United States need two shots to be effective. The other COVID-19 vaccine uses one shot.

Long-term storage of the COVID-19 vaccine will require special sub-zero freezers, until it can be shipped out to clinics to be stored for shorter periods of time in refrigerators.
How Will the Coronavirus Vaccine Be Distributed?
Once the first vaccines are approved and available to the public, Dr. Price said, "we're going to need to prioritize who gets it first." The initial production will be in such small amounts, that it won't be enough to offer to everybody. Dr. Price said that the priority will be on those at highest risk for getting seriously ill from COVID-19.

Vaccines will be prioritized for:
People with chronic illnesses
Health care workers
Patients in long-term care facilities
Hospitalized patients
Dr. Price said that even within those groups, priority will have to be tiered based on how much of the vaccine is available at each distribution.
When Will Colorado Get the Coronavirus Vaccine?
The federal government will be distributing the initial supply of the vaccine to each state and territory in the United States. "It will be distributed by need, and so when and how much Colorado gets will depend on the most at-risk population, and how many of those people comprise our population," said Dr. Price. "And then within Colorado, we need to decide how the vaccine will be distributed to those at risk. So I think it's gonna take some time before it's widely available to the general population, and so we'll focus on those most vulnerable and at risk for severe illness."
When Will Social Distancing and Wearing Masks or Face Coverings Go Away?
Dr. Price said that there will come a day when we will be able to stop social distancing and wearing masks or face coverings, but that day could be several years away.

"Just because we have a vaccine doesn't automatically mean that we're able to pull back on that. We'll have to see how effective the vaccine is in the general population, and continue to watch COVID-19 rates, and then make decisions based on the data in front of us. Even our best vaccines aren't 100 percent effective, so it is likely we will still see some breakthrough cases in vaccinated individuals. We have to expect that."
1918 Flu Pandemic vs. Coronavirus (COVID 19)
Looking at our history with the 1918 flu pandemic, it took about two years of heightened precautions after the pandemic ended before people were comfortable socializing again, and going back to normal. The virus commonly-known as the Spanish Flu has never gone away completely, but the precautions taken in those years effectively stopped its spread among the population, just as we are doing right now with COVID-19.

"With COVID-19, I don't know if it will echo that trajectory, but I think we have to assume that it will be with us for awhile, and as long as we have people at risk for severe illness, we will probably choose to take a higher level of precaution, just to keep people safe," said Dr. Price.

Learn more about how Denver Health is responding to the COVID-19 pandemic at DenverHealth.org/Coronavirus.