Why COVID-19 Vaccines Are Safe and Effective
December 17, 2020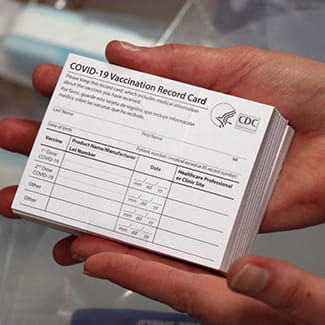 (Updated) Vaccinations are available to everyone age 5 and over. Denver Health will continue to vaccinate patients according to the latest state guidelines. Learn how to make an appointment for a vaccine at Denver Health.
Denver Health providers and leaders are joining with the nation and state's leading health organizations including the Centers for Disease Control and Prevention (CDC), the Food and Drug Administration and the Colorado Department of Public Health and Environment to encourage you to get a COVID-19 vaccine to protect yourself and the community against the virus, once they are available to you. This may be the most important tool in our toolbox of social distancing, wearing masks and washing our hands in stopping COVID-19 for good.

Because of how quickly these vaccines were developed, we know that you have a lot of questions about their safety and how effective they are, so we asked our top doc and one of our experts in critical and pulmonary care to weigh in. Stay up to date on the latest information about COVID-19 vaccines as new information comes out on this page.
Are COVID-19 Vaccines Safe?
Denver Health Chief Medical Officer and infectious disease specialist Connie Price, MD said that she has no hesitancy about getting a COVID-19 vaccine and points to the race in development to beat the spread of the virus as a good thing.

"We needed to utilize technologies that could rapidly develop a new vaccine, within a reasonable time period," Dr. Price said. "It was a race between developing a vaccine and a race between the COVID vaccine infecting all of us, and I'd like to say that we can win the rest of this battle, thanks to the technology, we were able to accelerate the development."

Anuj Mehta, MD is a Denver Health Pulmonary and Critical Care Physician and advisor to Colorado Governor Jared Polis on the COVID-19 vaccine. He agrees with Dr. Price about his willingness to get vaccinated as well.

"They've been through really rigorous clinical trials," he said, adding that the volunteers who took part in those trials were equally represented when it comes to age, gender, race, ethnicity and certain medical conditions, such as obesity, diabetes and lung disease. "The vaccine is proven and equally safe across all of those populations."
Can Pregnant Women, Breastfeeding Mothers and Immunocompromised Get a COVID-19 Vaccine?
The Centers for Disease Control and Prevention is now recommending that pregnant women and breastfeeding mothers get a COVID-19 vaccine to protect against the spread of the virus. People who are immunocompromised should talk to their provider about whether they should get the vaccine so they can make an informed decision on whether the COVID-19 vaccine is right for them. The Centers for Disease Control and Prevention will continue to update its guidelines for these groups as information changes, so we encourage you to visit their website for the latest.
Are the COVID-19 Vaccines Effective?
Denver Health has three vaccines available. The one produced by Pfizer is approved by the Food and Drug Administration for administration to anyone 16 and older. The Moderna vaccine is available under an Emergency Use Authorization. Both of these vaccines are two doses and in clinical trials have proven to be around 95 percent effective. The one-dose Johnson & Johnson vaccine is now authorized under emergency use as well and is available at Denver Health. All three vaccines are safe and proven effective in preventing hospitalizations from COVID-19.
"The way we know that any medication works is by doing rigorous randomized controlled clinical trials – and that's what all COVID vaccines are going through," said Dr. Mehta.

What is not known yet is whether this will be an annual vaccination. So far, those in the clinical trials have shown recipients of the vaccines have maintained good immunity to COVID-19 more than six months after getting it.
Why Should I Get a COVID-19 Vaccine?
The COVID-19 vaccines will be critical in helping to prevent further infection or spread of COVID-19 amongst people in our community. Both Drs. Mehta and Price agree that it comes down to both protecting yourself and protecting your community by getting a vaccine.

"The vaccines are really critical to reopening the economy, getting businesses going and reopening schools," Dr. Mehta added.
COVID-19 Vaccines and Communities of Color
Dr. Mehta understands the hesitancy and potential distrust in these new vaccines among communities of color, including Latinx, Black and Indigenous People. He points to the clinical trials done by the vaccine manufacturers in partnership with the US Government that included a large number of individuals from varied backgrounds.

"This was done specifically to try and address some of these concerns and history of not including communities of color in research. And I think that what they've done is by creating a very diverse population in our clinical trials, we can speak very specifically about the safety in these different populations. So specifically for communities of color, there is evidence that the vaccine is just as safe and just as effective as it is for everybody else."
Side Effects of the COVID-19 Vaccines
"In about a third of people who get the vaccine you'll experience a reaction, and that's because the vaccine is doing what we want it to do, which is to produce an immune response," said Dr. Price.

She said that common reactions to the vaccine include:
Arm soreness
Fever
Headache
Muscle aches
Those symptoms may mimic a mild form of COVID-19 or the flu, but Dr. Price said it is not something to be concerned about, and that it just reflects the fact that the vaccine is working.

Dr. Mehta agrees, "so just because the side effects are similar to the illness, does not mean you're going to get COVID from the vaccine. It is actually impossible to "catch" COVID-19 from the COVID-19 vaccine."

There is no evidence in any of the clinical trials that someone is going to get seriously ill or die from getting a COVID-19 vaccine.
Can Children Get the COVID-19 Vaccines?
The Pfizer vaccine can be given to children age 5 and over through an emergency use authorization. Learn more about vaccines for children age 5-11 and please see the CDC's website for the latest policies.
What is In the COVID-19 Vaccines?
The Pfizer and Moderna vaccines are what are known as mRNA vaccines, meaning they contain a chemical that is in our own bodies, and just a piece of what mimics the COVID-19 virus, so it cannot cause COVID-19 in your body. Dr. Mehta said this is a protein, wrapped in a fat-layer known as a lipid layer. The other ingredients include potassium, sucrose, salts and other ingredients to stabilize the molecule. COVID-19 vaccines will not alter your DNA. Dr. Mehta encourages anyone to look up the full ingredient lists on Pfizer and Moderna's websites.
The Johnson & Johnson vaccine contains an inactivated cold virus that cannot make anyone sick. It is one dose instead of the two doses like Pfizer and Moderna. See full information and ingredients on Johnson & Johnson's website.
When Should I Schedule a COVID-19 Vaccine?
Dr. Price recommends getting a COVID-19 vaccine scheduled right before time off from work, or when you don't have any plans, because of the potential side effects. "You'll want to have some time to recover."

The mild or moderate symptoms should go away within 24-48 hours, but if for some reason they do not, Dr. Price said you should contact your doctor.
Can I Get A COVID-19 Vaccine if I Have Allergies?
There have been news reports about some people with allergies having strong reactions to COVID-19 vaccines. Dr. Mehta wants patients to know that anything foreign that is put into your body can cause you to have an allergic reaction. The CDC suggests that if you have ever had a serious allergic reaction (such as the throat closing up) to an injectable medication, it is best to wait until there is more information and discuss with your doctor when is the best time to receive a COVID-19 vaccine.

For the rest of us with mild allergic reactions to drugs and food, he offers this advice, "anybody that's had kind of itching with penicillin or a sulfa drug, or has a food allergy to eggs or something should feel safe to get the vaccine. Everybody needs to be monitored after they get the vaccine for a certain amount of time and people that have had a serious allergic reaction, to say a food, may want to be monitored for a little bit longer." He adds that anyone who has had an allergic reaction was treated for it, without having to be hospitalized and has recovered.
Should I Get a COVID-19 Vaccine if I Have Had COVID-19?
Denver Health's medical experts advise anyone who has had COVID-19 within the past 90 days to consider deferring getting a COVID-19 vaccine. "That's because you still have some immunity," said Dr. Price. "You may be able to step aside and allow someone who hasn't had COVID-19 in the last 90 days to get that vaccine first. After 90 days, your immunity may be waning and the benefit of the vaccine may be greater for you."
Will COVID-19 Vaccines Stop the Flu?
Denver Health is encouraging everyone to get both a flu vaccine and a COVID-19 vaccine when it is available.

"The COVID-19 vaccine, unfortunately, cannot stop the flu," said Dr. Price. "You have to get an influenza vaccine separately and vice-versa. The flu vaccine will not stop COVID-19."

Find out more about getting your flu vaccine during the COVID-19 pandemic.
Does the Arrival of COVID-19 Vaccines Mean Can We Go Back to Normal?
You should not stop wearing masks and social distancing in public now that the COVID-19 vaccine is here and even after you get the vaccine. "We still have to do those things until we can ensure that the community has herd immunity and that this virus isn't circulating anymore," said Dr. Price. Herd immunity refers to a percentage of the population that needs to be immune to COVID-19 to be able to stop it from infecting other people in the community who are not immune.
According to the CDC, you are considered fully vaccinated two weeks after the final dose of a two-dose vaccine or two weeks after a one-dose vaccine. Once you are fully vaccinated, you can safely gather indoors without face coverings with others who are fully vaccinated or with unvaccinated people from just one other household.
"One day we will be able to get back to normal, but it won't be immediate. I see this as the final tool in our toolbox – we have masking, we have social distancing, and now we have a vaccine. I see a way out of this pandemic," said Dr. Price.

Dr. Mehta agrees, calling the vaccines a "home run."
Listen to Dr. Mehta answer more questions about the COVID-19 vaccines in this Colorado Public Radio interview.