COVID-19 Vaccine for Kids Age 5-11 Available at Denver Health
November 04, 2021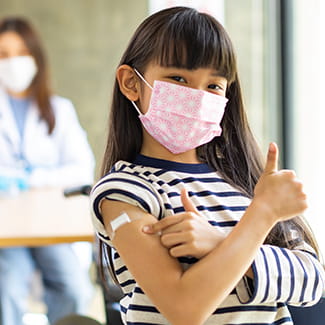 Starting Thursday, November 4, you can schedule a Pfizer COVID-19 vaccine for children ages 5-11 at Denver Health, with the first appointments available starting Monday, November 8.

The Food and Drug Administration (FDA) has authorized under an Emergency Use Authorization (EUA) and the Centers for Disease Control and Prevention (CDC) has recommended the use of the Pfizer COVID-19 vaccine for U.S. children, ages 5-11. The authorization is for children to receive one-third the dose that those 12 and older receive, at two doses separated by at least 21 days. Vaccines for children are available at all 10 Denver Health Community Health Centers, all 18 School-based Health Centers, through Denver Health's Mobile Health Centers, as well as the Public Health Institute's Immunization and Travel Clinic.

Data from research studies suggests that the Pfizer COVID-19 vaccination is safe for 5-11 year olds and protects children and adolescents from complications such as hospitalization. Young people who do not have underlying health issues often do not get very sick with COVID-19, but that does not mean all kids are safe from complications related to COVID-19 infection. Vaccinating children not only protects them, but also the people they live or spend time with, including their friends and family. Vaccinated people are much less likely to infect others.
Vaccination can help keep your child in school. COVID-19 has had a negative impact on children and families. If your child is fully vaccinated, they are much less likely to miss school, sports or other activities.

Children, just as with adults may experience side effects from the vaccine, including pain, redness or swelling in the arm where they received the shot. Your child may also experience fever, chills, tiredness, pain, headache or nausea. Side effects may feel like flu and even effect your child's ability to do daily activities. These symptoms are normal and will typically resolve within a few days (typically less than 24 hours). An over-the-counter medicine, such as ibuprofen or acetaminophen can help with any pain or discomfort your child is experiencing. It is not recommended to give these medications to your child BEFORE they get their immunization, only AFTER.

After vaccination, your child should still cover their mouth and nose with a mask when around others, stay at least six feet away from others, avoid crowds, stay home when sick and wash their hands often.

Call your child's doctor if side effects persist for three days or more after vaccination. If you child experiences severe hives, throat swelling or tightness, or loss of consciousness after receiving the vaccine, call 911 IMMEDIATELY.
See a full list of frequently asked questions about the Pfizer COVID-19 vaccine for children
.
To find out how to schedule a COVID-19 vaccine for your child or yourself, visit DenverHealth.org/COVIDVaccine.