What is a Colorectal Cancer Screening?
February 25, 2021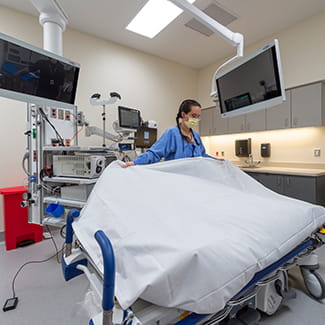 Colon and Rectal Cancer Screening Saves Lives
March is Colorectal Cancer Awareness Month. Colorectal cancer (which can also be known as colon cancer or rectal cancer) is the third most common cancer in both men and women in the United States, striking one in every 20 Americans, and the second leading cause of cancer deaths in the U.S. among men and women combined. It is also one of the most preventable types of cancer if caught early. A screening test can be life saving. Denver Health is encouraging patients to discuss colorectal screening with their providers so that testing can be arranged.
Who is Most at Risk for Getting Colorectal Cancer, Colon Cancer or Rectal Cancer and Who Should be Screened?
Colorectal cancer screenings can be done starting at age 45 for men and women, but should be done earlier if you have a family history of colon or rectal cancer. Talk to your doctor or gastroenterologist if you think you have that risk.

Men have a higher risk of developing colon cancer than women and people in the Latino/Hispanic and black communities are also at higher risk.

More than 150,000 people will be diagnosed with colorectal cancer in the U.S. this year alone and more than 50,000 will die. Colon cancer and rectal cancer rates are increasing at alarming rates in younger patients, and many are showing up in hospitals with advanced stages of the disease.

In the past, colorectal cancer screenings were not recommended until the age of 50. However the American Cancer Society now recommends average risk screening at age 45 for all patients and a recent draft recommendation from the United States Preventative Services Task Force also supports screening at age 45.

A recent 2020 study led by Denver Health gastroenterologist Jordan Karlitz M.D., demonstrated a steep increase of more than 46 percent in colorectal cancer incidence rates from age 49 to age 50. These findings support a large number of previously undetected colorectal cases diagnosed when patients begin screenings at age 50 and suggests earlier screening at age 45 could prevent many of these cancers or detect them at an earlier stage. Unfortunately, screening rates nationally are not ideal, particularly in younger patients. In 50-54-years-olds, screening rates are under 50 percent.
Patients should check with their insurance carriers to find out what ages are covered for screening. Even if screening is not covered by your carrier at age 45 now, it may be in the near future.

"The bottom line is go out and get screened because screening can prevent cancer and this will save lives," said Dr. Karlitz. "Always report symptoms to your healthcare provider and assure you know your family history of cancer as testing prior to typical screening age may be required."
How Do I Get A Colorectal Cancer Screening?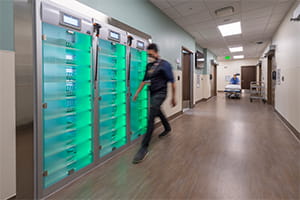 Denver Health's new outpatient
Gastroenterology (G.I.) Lab
just opened its doors to patients in its new location, on the 3rd floor of the
Outpatient Medical Center
. This is an expanded space, with five brand new procedure rooms – which is one more than the department had before. This larger space allows Denver Health's expert G.I. Lab team to screen and treat more patients than before, using state-of-the-art new equipment that ensures the highest standards of patient safety and efficiency during procedures.
Patients can get a referral from their
primary care
provider or speak directly to the G.I. lab's patient navigator about making a colorectal cancer screening appointment by calling or texting
720-390-0062
.
The cost of a colorectal cancer screening varies based on your insurance provider, but that should not be a barrier to getting the testing done. Self-pay options are available if you don't have insurance and Denver Health also offers financial assistance programs for those facing hardship.
Find out more here
.
What Happens During A Colon Cancer or Rectal Cancer Screening?
Denver Health offers two types of colorectal cancer screenings:
The FIT test is done every year and detects microscopic blood in the stool. Patients can do this test at home and return the stool sample to our lab.
Colonoscopies, which are performed in the new outpatient GI lab, allow direct visualization of the colon and rectum with a thin, flexible, lighted tube. While inspecting the colon and rectum, gastroenterologists can see and remove precancerous polyps which can prevent the development of colorectal cancer. Colonoscopy also is used as a follow-up test if anything unusual is found during one of the other screening tests (for example a positive stool test for occult blood). It is important to note that if patients are having symptoms, diagnostic colonoscopy, as opposed to stool-based testing, will be conducted. If patients have a family history of colorectal cancer or other cancers, colonoscopy is frequently required and patients are encouraged to review family history information in detail with their providers to determine what testing is indicated and when it should be performed.
Talk to your doctor about which test is right for you. For colonoscopies, your patient navigator will explain the specific steps you need to take before, day of and after your test/procedure, how long it will take and special transportation you will need to arrange to get to and from your appointment. Except in very rare cases, patients go home the same day of a colonoscopy.
Safe at Denver Health
Denver Health is taking all precautions to ensure your safety if you come in for an appointment during the COVID-19 pandemic, including social distancing, temperature screening at the door, face coverings and hand hygiene. Find out more here.