What is a Community Health Center?
August 04, 2021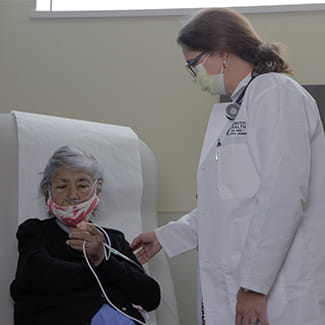 August 8-14 is National Health Center Week 2021, an annual celebration to raise awareness about the mission of Community Health Centers across America. At Denver Health, we are proud to celebrate our 10 community health centers, along with our 18 School-based Health Centers and our three Mobile Health Centers. We are using this week to help educate the community about how they can improve their health, just by making a doctor's appointment.
History of Community Health Centers
Community health centers play an increasingly important role in the U.S. health care system. Launched in 1965 as a small experiment bringing comprehensive primary care to rural and urban medically underserved communities, health centers have grown steadily over five decades. Studies show their effectiveness, not only in creating access to health care, but in improving health on a community-wide basis.
In 1966, Denver Health opened the second Community Health Center in the country when the original Eastside community health center opened to serve the residents of Five Points and central Denver. In 2021 so far, Federally Qualified Health Centers have cared for over 30 million Americans, with Denver Health caring for over 177,000 individuals of all ages and backgrounds. We rank as the 8th biggest Federally Qualified Community Health Center system in the country by patient volumes.
How to Use Your Community Health Center at Denver Health
Denver Health believes that healthy people are the foundation of a robust community. We are committed to caring for you and your family at every point in your lives. Every patient who receives care at our community health centers will choose a primary care provider, also known as your PCP. Your PCP has a team that supports the coordination of all your health care needs. The most important member of this team is you. Your team needs to understand your preferences as they build a care plan that works for you. According to the World Health Organization, health is a state of complete physical, mental and social well-being and not merely the absence of disease.

At Denver Health, we want to help you and your family reach this goal. A big part of staying healthy is completing your recommended preventive services and screenings which have been shown to save lives. These preventive services and screenings are recommended based on your age, sex assigned at birth and family history. According to the Centers for Disease Control if everyone in the United States received just a handful of specific care recommendations we could save over 100,000 lives each year.

Although most preventive services and screenings are covered by health insurance plans under the Affordable Care Act, millions of children and adults go without the recommended services that prevent and detect illnesses and diseases. Your role as part of this team is to complete recommended preventive services and screenings, follow through on recommended treatment and to notify your team if you're experiencing challenges, have questions or concerns.

MyChart is a convenient and virtual connection to your care team. From the convenience of your phone or computer, anyone on your care team can help you sign up for MyChart. Through MyChart, you can refill your medications, see your lab and imaging results, schedule appointments and send a message to your care team. You can see patient instructions from your past visits and see when you are due for some of your preventive services and screenings. You can also connect some medical devices with MyChart to automatically send data to your care team. Please let your PCP know if you have received care outside of Denver Health so that we can update your records.

Denver Health's vision is to be the healthiest community in the United States. Let's reach this goal together.