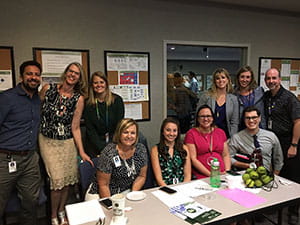 Tuesday, September 5, 2017
In August, Denver Health Lean Academy hosted the Colorado Lean Network (CLN) Quarterly Kaizen Event. More than 50 participants attended this event, representing a variety of organizations from throughout the Denver Metro area, including Centura Health, Denver Department of Human Services, Lutheran Medical Center, and US Environmental Protection Agency. Focused on the theme of "Big Lean", the event included three presentations by Lean leaders from Denver Health and the City of Fort Collins, and a panel discussion surrounding the topic "How do you cultivate Lean leaders?" It also featured two Learning-While-Doing activities, one around the Four Rules in Use, and the other about identifying the Eight Wastes.
Please visit the Colorado Lean Network website for additional information about the event. Also, on the site, you can click to view a recording of the event.
Comments from attendees at the event included:
"The networking was great fun and very productive"
"The whole program was excellent. The Lean concept was elegantly illustrated."
"Thank you for putting together a diverse agenda and being accessible…"
"Well planned and organized"
A big thank you to all of those who attended this exciting event!
Also, the Denver Health Lean Academy will be sponsoring the upcoming Colorado Lean Network Annual Colorado Lean Summit hosted by the City of Arvada on September 14, 2017.