Former Denver Broncos Player Finds True Calling Working at Denver Health
August 02, 2018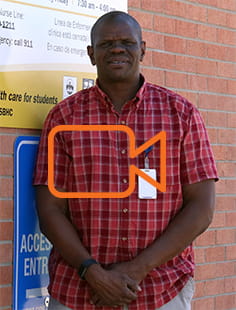 Tyrone Braxton was a defensive force for the Denver Broncos (13 NFL seasons, including four Super Bowls) during the 1980s, 90s and 2000s, helping lead the team to its first two Super Bowl wins in 1998 and 1999. Not many people know he is now a licensed clinical social worker and a licensed addictions counselor for Denver Health. He works with adolescents through the Substance Abuse Treatment Education and Prevention (STEP) program at two School-based Health Centers – Thomas Jefferson High School and Dr. Martin Luther King, Jr. Early College.

His path to social work wasn't easy. After retiring from football at age 35, the former Pro Bowl defensive back was arrested for drugs in 2006, an arrest that he called "a wake up call" to change his life for himself and for his two children.

In 2009, the then 45-year-old decided to fulfill a promise to his mother and go back to school to earn his bachelor's degree. He enrolled in online classes at North Dakota State University and then earned his Master of Social Work from Metropolitan State University of Denver. He joined Denver Health after earning his license in clinical social work.

Braxton said when he tells people what he does for a living now, "they kind of look at me in shock."

"I don't want to be a stereotype or a guy who just played football, and that's all I'm known for. I don't like stereotypes or labels; I like to be inclusive. That's part of why I got in this field. [I can show that] a black male who played football is still sensitive and cares about other people; I want to dispel some of those stereotypes."

He really has found a second career that he called his "true calling and true passion." Braxton joked, "I just took the scenic route to get there."

"Football was just for fun, it was entertainment," he said. "Right now, I get to change lives. I deal with kids who are at their toughest moments in their lives, helping them develop and recognize the strength that they already have and help them move on and set goals and go to college and be successful, in spite of all the challenges they have now. There's no comparison [to football]. What I do now is definitely more important."

"We don't deal with the traditional boyfriend-girlfriend problem, or I'm having a problem with a certain teacher or a friend," he said about his work at Denver Health. "We deal with the chronic challenges of trauma and abuse that are happening so often in our communities and we just want to be there to provide that support when they need it." Braxton also counsels students who have anxiety because their parents are undocumented immigrants and they wonder whether they will be there when they come home from school.

Now, Braxton is working on his Ph.D. in health and behavioral sciences at the University of Colorado Denver.
Watch Braxton talk about his second career in this short video.