Ebola Vaccines Prove Promising
November 29, 2018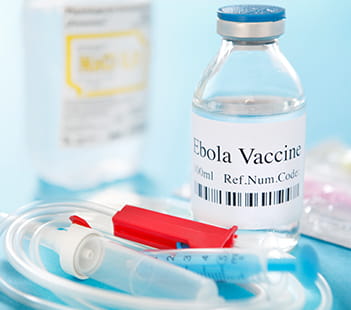 Denver Health's Regional Ebola and Special Pathogen Treatment Center Monitoring Research
Researchers say three experimental Ebola vaccines being used in the Democratic Republic of Congo are proving effective to protect against the African country's ongoing Ebola outbreak.

Health workers in the Congo are using the vaccines to contain the outbreak. In neighboring Uganda, they are using it to contain the outbreak before it spreads over the border. The vaccine has proven to be effective for two and a half years – the longest researchers have tracked Ebola vaccine responses in humans. The research was presented at the American Society of Tropical Medicine and Hygiene in New Orleans last month.

Denver Health is one of ten regional facilities in the United States carrying a federal designation to treat suspected or confirmed cases of Ebola. On November 15, members of Denver Health's High Risk Infection Team conducted a quarterly drill, where we activated our Biocontainment Unit – just one part of the extensive training required to make sure the hospital is prepared to treat a suspected Ebola case.

To date, no confirmed Ebola cases have been presented at Denver Health, but since 2015, the hospital has evaluated and treated two suspected cases.