Hero of the Month
April 29, 2019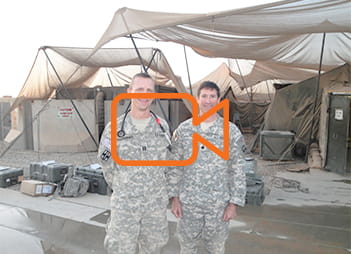 Dr. Charles Fox, A Hero in the Operating Room and on the Battlefield
Earlier this month, Dr. Charles Fox, Chief of
Vascular Surgery
at Denver Health was recognized by
FOX31 as its April Hero of the Month
.
Dr. Fox, who completed his medical training in between six combat tours, talked with Artisea Brady about his journey through medicine and how his training in combat helped him become the surgeon he is today.
"It's just an evolution of training. Being all you can be and doing the best that you can and working hard at it," Dr. Fox said. "It's incredible; the ability to take your skills from a civilian trauma center and apply them on the battle field was really quite an honor."
Dr. Fox grew up in a farming community near Baltimore City, Maryland, a fact he often talks about when recalling choosing a career.
"My grandfather never took a day off, he was a farmer … and I thought this man works every day of his life, there's no way I want to be a farmer."
Dr. Fox ended up learning a lot from his grandfather, namely that hard work, dedication, humility and pride are keys to success.
Denver Health is proud to have Dr. Fox serving our community for the last six years. Please join us in thanking him for his service and for all that he does to save lives and bring innovation to Denver Health.