Outpatient Medical Center Construction Reaches the Top
April 16, 2019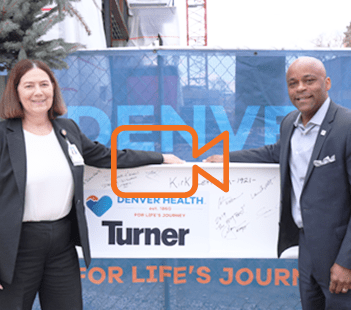 Topping Out Ceremony Marks Important Milestone for Future Denver Health Patients
Today, Denver Mayor Michael B. Hancock, Denver Health CEO Robin D. Wittenstein, Ed.D., FACHE, and Turner Construction Executive Laura Prendergast joined Denver Health staff, construction workers and distinguished guests to place the final steel beam at the top of the new
Outpatient Medical Center
, topping out the 293,000-square-foot building.
The mayor, hospital staff and construction workers signed the 1,288-lb., 36-foot-long white Outpatient Medical Center beam, which was picked up by a crane and hoisted into place.
The completed, seven-story structural frame now rises 138 feet into the Denver skyline and includes 4.7 million lbs. of steel.
When it opens to the first patients in 2020, the new Outpatient Medical Center will centralize numerous outpatient services under one roof and will include a outpatient surgery center, expanded pharmacy, lab services and radiology.
Mayor Hancock said, "this has been a long journey to get to this topping out ceremony and I am proud to be here. We celebrate what Denver Health has brought to our community as the best public health institution in the entire United States of America."
Dr. Wittenstein agreed, "the Outpatient Medical Center is a symbol, ensuring that Denver has the opportunity to be the healthiest city that it can be."
Prendergast thanked the construction workers and talked about the traditions surrounding the topping out ceremony, "there's a tree that is put on the beam and this is intended to symbolize the land that has been displaced by the structure." The tree was taken down from the beam, after it reached the top.
In 2017, Denver taxpayers approved $75 million to help construct the $157 million building through the
Elevate Denver Bond Program
. Last night, Denver City Council approved the second and final debt issuance to fund the Outpatient Medical Center.
Over the next several months,
Turner Construction
will continue working with locally-owned Plaza Construction Inc. to pour the concrete floors. The building will then be enclosed with brick and steel paneling and glass before work on the interior can begin.
The new Outpatient Medical Center is on schedule to open to patients in 2020.