Coming in 2021: A New Outpatient Medical Center for the People of Denver
Denver Health provides medical care to nearly one-third of Denver's population, proudly serving as the city's safety-net hospital and providing preventative, primary and acute care services. We are committed to making our community a healthy place to live, work and strengthen a family.

As the city's population grows and the demand for quality health care services increases, Denver Health is updating its infrastructure and expanding its floor space at its downtown campus to meet the future needs of the city. When Denver Health's new Outpatient Medical Center opens to the public in 2021 at 660 Bannock St., it will significantly increase the hospital's patient capacity to provide outpatient care, meeting the future needs of our growing, vibrant city.
What the Outpatient Medical Center Will Offer
Our new medical center will centralize numerous services under one 293,000 square foot roof, in an easy-to-access downtown location. It will include a day surgery center, a new location for our Adult Urgent Care Center, expanded pharmacy, lab services and radiology.

The building will greatly enhance Denver Health's ability to provide treatment for heart disease, cancer and diabetes. It will also be a center for orthopedics, cardiology, behavioral health, dental and oral health, and offer expanded services for eye exams and physical therapy.

Consolidating these clinics will free up much needed space around the Denver Health campus, allowing the hospital to boost primary care services, increase the number of inpatient psychiatric beds and provide the capability to double the number of operating rooms from four to eight if needed.
Departments That Are Scheduled To Move to the Outpatient Medical Center in 2021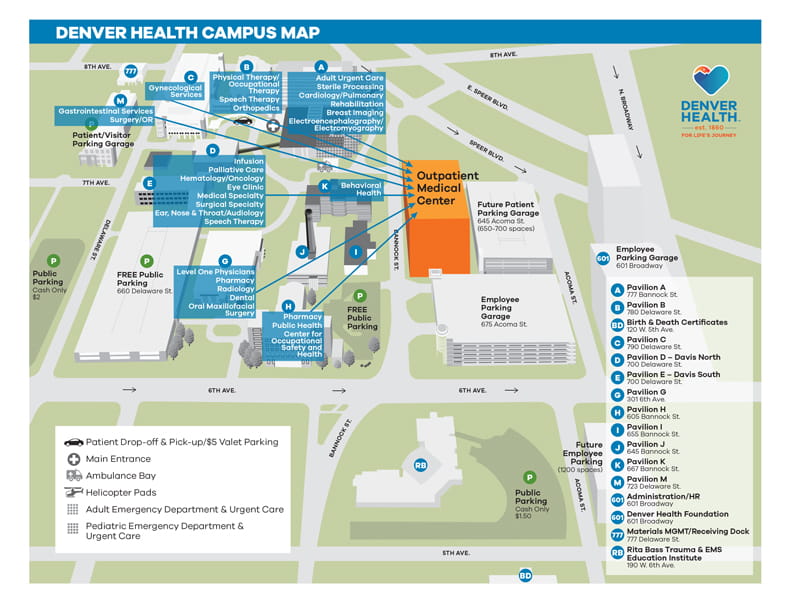 See a larger, PDF version of the map of clinics moving into the new Outpatient Medical Center.
See which floor the new clinics will be located on and more detailed information about move-in and opening dates.
Free Parking at the Outpatient Medical Center
Free patient and visitor parking for the new Outpatient Medical Center will be conveniently located directly behind the building, at 645 Acoma Street. There are more than 650 new parking spaces available at no charge to patients. The new parking allows patients to get to and from their appointments safely, without having to cross any major streets.
Dining Options at the Outpatient Medical Center
When our new medical center opens in 2021, it will include a new café. The OMC Café will offer a variety of fresh and convenient grab-and-go items, as well as hot sandwiches, soups and beverages. Graduates of the Emily Griffith Technical College's culinary programs will run the café.