Denver Health Pediatrician Finds More Parents Using Religious Vaccine Exemptions
December 12, 2019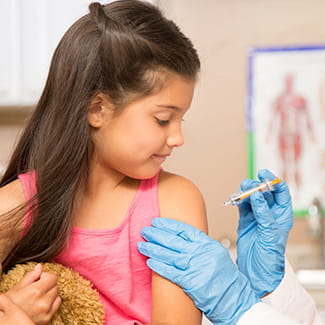 Every year when school starts, Denver Health providers remind parents to make sure their children have been vaccinated for certain highly infectious, preventable diseases such as
measles
, mumps and rubella. These vaccines are required for children to attend school and are offered at Denver Public Health's
immunization clinic
, as well as through our 18
School-based Health Centers
and our nine
family health centers
across Denver.
Colorado is one of 45 states that allows religious exemptions from vaccinations, but we are one of only 15 states that permits exemptions on the basis of "personal belief."
Denver Health pediatrician
Joshua Williams, M.D.
began looking into these two exemptions and the effect they had on parents making sure their children are protected from getting sick. He led
this study in the journal Pediatrics
, finding that parents were more likely to claim religious exemptions for vaccines in states that didn't permit personal belief exemptions. Williams said the increase in religious exemptions suggests a "replacement effect."
"When you give parents two options in a state, personal belief and religious exemptions, a very small percent of parents are actually opting for religious exemptions if given an alternative," Williams told the Philadelphia Inquirer.
Leaders of virtually all major religions have advised their members to get their children immunized.
Read the full story
HERE
.