Limited Access and Patient Screening for Coronavirus
March 15, 2020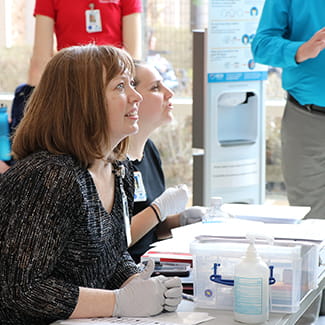 Update March 15, 2020: Denver Health is encouraging anyone who visited Eagle, Gunnison, Pitkin or Summit counties within the past week, to minimize social contact in accordance with state guidelines, to reduce the spread of the novel coronavirus, also known as COVID-19. Those mountain communities are already experiencing high rates of community transmission of the disease.
Original Article: Starting today, Denver Health is putting new procedures in place for patients and visitors to stop the spread of the novel coronavirus, also known as COVID-19. Based on our close monitoring of the situation and recent state test results, there is now reason to suspect we are seeing limited community spread of the virus in Colorado.

Any visitor, contractor, vendor, volunteer or patient entering any Denver Health facility, including the main hospital campus or any of our Family Health Centers, will be asked about symptoms of fever and respiratory illness.

Additionally, there will be controlled access to the main hospital facility. Everyone entering the hospital will have to come in through either the Pavilion A or Pavilion C entrance. The Pavilion B entrance is closed.

Any patients showing symptoms of COVID-19 will be offered a mask and access to hand hygiene as they enter the facility where they are seeking care. Inside our clinics, they will either be offered a private room for evaluation or will be asked to stay at least six feet away from others. A provider will then evaluate the patient while wearing special protective equipment.

For those visiting patients in the hospital, Denver Health has a two visitor limit in effect, to reduce the risk of respiratory infection and no visitors under the age of 12 will be allowed in. You will not be permitted to visit patients in the hospital if you have flu-like symptoms, including fever, cough, sore throat or shortness of breath.

Denver Health and Denver Public Health are working closely with city and state authorities to monitor the novel coronavirus. Find the latest information from DenverPublicHealth.org here or call the Colorado Help Line at 303-389-1687.