Denver Health Provides Safe Place for Urgent and Emergency Care During COVID-19 Pandemic
April 27, 2020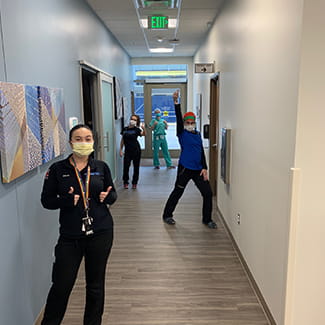 During the COVID-19 pandemic, Denver Health ensures all of our patients that if you have an emergency or urgent medical situation that cannot wait for a doctor's appointment, our five urgent care locations and our emergency department are safe places to go to get the care that you need.
We remain open and ready to serve you for any severe illness or sudden injury that may arise. Our patients can expect to have a private room ready for them quickly after check-in, and in many cases with little to no wait time.
Denver Health Urgent Care and Emergency Safety Measures During COVID-19
During this difficult time, as we fight the COVID-19 virus, we have taken several measures to ensure your health and safety if you have to come into any one of our urgent care or emergency locations:
Separating any patients who are showing signs and symptoms of COVID-19 from patients who are not showing symptoms of the virus
Every patient's temperature will be taken
Masks will be given to all patients
All staff members wear masks and protective equipment when treating you
Every exam room is thoroughly cleaned after each person is treated and every instrument used in those rooms is thoroughly sterilized
Staff and patients will be required to wash their hands for at least 20 seconds upon entering an exam room
All of our locations will be adhering to strict social distancing guidelines, as illustrated in the above photo of our staff at our Downtown Urgent Care; a physical distance of at least six feet will be maintained throughout your visit
COVID-19 Testing at Denver Health Urgent Care Locations
COVID-19 testing is available at our urgent care locations if you have a prescription from a doctor or you are feeling ill with signs and symptoms suggestive of COVID-19. Test results are expected to be available within 24 hours. For patients with health insurance, insurance companies are required to cover the cost of COVID-19 testing and your insurance company will be billed directly. Self-pay patients will be billed Denver Health's self-pay rate for all services related to COVID-19. There may be additional costs for all patients for any other services that are provided at the time the testing is performed.
When to Seek Urgent or Emergency Care vs. Telehealth Appointments During COVID-19
While many of our health care services, such as primary and specialty care, have shifted to telehealth appointments during the novel coronavirus (COVID-19) pandemic, there are some cases where you still should seek medical attention in person and should not delay your care.
Seek Emergency Care when you are suffering from any of the following illnesses and injuries:
Sudden numbness in your face, arms or legs
Sudden change in vision
Serious head, neck or back injury
Difficulty breathing
Bleeding that won't stop
Chest pain or pressure
Severe burn
Seizure or fainting
Poisoning
Seek Urgent Care when you are suffering from any of the following illnesses and injuries:
Minor fractures
Sprains
Colds, flu and fevers
Coughs and asthma
Sore throats, ear aches and other respiratory problems
Minor cuts and abrasions
Back, joint or muscle pain
Abdominal pain
Minor bicycle or scooter injuries
Skin rashes
Allergic reactions
Altitude sickness
Gynecologic problems
Urinary symptoms
If you are experiencing an emergency, call 911 immediately. Visit our Urgent Care page for the most updated information on operating hours for any of our five locations: Adult Urgent Care Center, Pediatric Urgent Care Center, Downtown Urgent Care, Peña Southwest Urgent Care and Winter Park Medical Center.
For updates on the novel coronavirus (COVID-19) and Denver Health's response, visit DenverHealth.org/coronavirus.