How to Self-Quarantine When Living in a Small Apartment or Home with Other People
May 18, 2020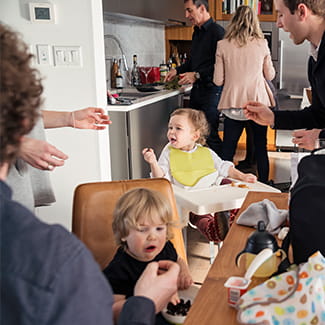 During the spread of COVID-19, many people in shared households will have to help care for a loved one or friend who has contracted the virus. The infected person will be told to self-quarantine themselves, but this can be especially tough under certain conditions.
When to Self-Quarantine
According to the Centers for Disease Control and Prevention (CDC), self-quarantine can help protect the public from people who have or may have a contagious disease, such as COVID-19. Putting those people who were exposed to the virus on self-quarantine can prevent exposure to those who do not carry or have the disease.
What Does it Mean to Self-Quarantine
Self-quarantine separates and restricts the movement of people who were exposed to a contagious disease to see if they become sick. In other words you will be told to stay home. If you are feeling sick, or think you were exposed to someone who is sick, you can call Denver Health's 24-hour NurseLine at 303-739-1211 or contact Denver Health's appointment center at 303-436-4949 to make a telehealth appointment, or a doctor's appointment over the phone. Your provider will then tell you if either isolation or self-quarantine is necessary.
"It can be very difficult to self-quarantine when you live in crowded conditions, such as a small apartment or small home with only one bathroom and several people living inside," said Denver Health Chief Medical Officer Connie Savor Price, MD, "but it can be done if done carefully and you have the cooperation of everyone living in the household."
"I think we focus on the way COVID-19 is transmitted 99.9 percent of the time which really is through respiratory droplets, which come out of your nose and mouth."
Self-Quarantine Guidelines
Keeping the transmission guidelines in mind and the fact that a caregiver should always dial 911 in the event of a life-threatening or potentially life-threatening situation, Dr. Price offers these five basic rules for the person who is under quarantine:
Sleep separately. Make sure the infected person has a separate bed or separate area of the home to sleep in, away from all the other people living in the household. Do not share a bed with anyone else in the home.
Physical distancing. Maintain six feet of physical distance at all time from the other members of the household, so that you do not risk getting anyone else sick. The CDC recommends that the person who has COVID-19 should also wear a face covering or mask at home when around anyone else. Caregivers and other members of the household may also wear face coverings in the home when around the infected person.
Clean the bathroom after every use. Each time after using the bathroom, the person who is sick should clean and wipe down all areas with a household disinfectant. If the person who is sick cannot clean up, the CDC advises others in the home to wait as long as possible after the infected person has used the bathroom, put on a mask, and then go in and clean up before using it themselves.
Wash your hands. Maintain really good hand hygiene by washing your hands frequently using soap and water for at least 20 seconds. If soap is not available, you can use waterless hand sanitizer.
Eat and cook alone. If you are preparing your own food, do it on your own, away from others living in the home and at a time when others are not in the kitchen. When you eat your meals you should eat by yourself as well. Clean and disinfect any areas you came into contact with when finished.
Tips for COVID-19 Caregivers
The CDC has additional safety and health tips for those who must become caregivers to someone who has the virus. In addition to limiting contact with the person who is sick, they suggest helping them by providing support and covering basic needs.
Caregivers can do that by:
Helping the person who is sick follow their doctor's instructions for care and medicine.
See if over-the-counter medicines for fever, such as acetaminophen (Tylenol), help the person feel better.
Make sure the person who is sick drinks a lot of fluids and rests.
Help them with grocery shopping, filling prescriptions, and getting other items they may need. Consider having the items delivered through a delivery service, if possible.
Take care of their pet(s), and limit contact between the person who is sick and their pet(s) when possible.
Living With Someone Who Has COVID-19: Sharing, Trash and Laundry
Caregivers and other members of the household should remember not to share items with the sick person, including dishes, silverware, glasses, towels and bedding, or electronics (such as remote controls or cell phones).
Use disposable bags in all trash cans and if possible, dedicate a trash can for the sick person. Wash hands thoroughly after taking out the trash.
The sick person's dirty laundry can be washed with others in the household, but the person doing the laundry must make sure to disinfect any areas the dirty clothes have touched and wash their hands with soap and water after both placing the dirty clothes into the washer and when moving the wet clothes into the dryer. Clothes should be washed on the warmest recommended setting.
Everyone should wash their hands regularly with soap and water for at least 20 seconds, avoid touching their faces and any high-touch surfaces such as doorknobs, tables and light switches should be cleaned regularly with household disinfectant.