Compassionate Care Visits Provide Comfort to Patients During COVID-19
July 28, 2020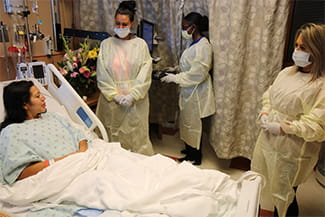 The novel coronavirus (COVID-19) pandemic has forced many changes at Denver Health, including a number of restrictions and limitations on the number of visitors our patients in the hospital can have. In response, Denver Health has created a new Compassionate Care Team to provide comfort and support to those patients who cannot have their friends and family see them in person due to COVID-19 restrictions.

To date, the team has made more than 1,700 compassionate care visits to patients in the hospital. Team members include Maria Soto and Alexis Juarez, who normally work in Denver Public Health clinics, but have seen reductions in their work hours in those clinics due to the pandemic. The pair have been reassigned to visit patients in person and over the phone in the hospital's acute and critical care units. They and others lend an ear, facilitate virtual visits with family and friends, and bring comfort items like books, crossword puzzles and hygiene kits to patients. They help patients heal while they are unable to get the in-person supports that they might normally have.

One of those patients they visited has been hospitalized for 53 days with two broken legs. "Having personal contact is motivating for our patients," Soto said. "The mind plays a big part in the healing process."
Helping Hospital Patients Connect During COVID-19
"From a patient experience perspective, we were really concerned about how limiting visitors would affect patients," said Sharif Abdelhamid, Denver Health's director of Patient Experience and Advocacy. "We had to find innovative ways to connect with patients and support our care teams in providing high-quality care."

The team's work has also proven beneficial for employees in a time when medical staff is stretched thin. "It was heartbreaking that our sick and terrified patients couldn't have visitors, which in turn took an emotional toll on the staff," said Heather Krohn, a charge nurse on the 7A acute care unit. "The tablets and coordination of Zoom calls made all the difference."

The team feels proud to be making a difference. "During the heart of the pandemic, the nurses were stretched pretty thin," Juarez said. "It felt really nice to be able to take some of the burden off of them by addressing patients' social and emotional needs."

Additionally, the new positions allow Soto and Juarez to work when their hours might have otherwise been reduced.
For more information on Denver Health's guidelines for patients and visitors and our response to the COVID-19 pandemic, visit DenverHealth.org/coronavirus.