Visitor Guidelines at Denver Health During COVID 19 Pandemic
June 01, 2021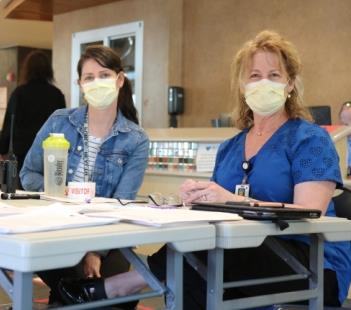 Leer en EspañolEffective Tuesday, June 1, 2021, Denver Health is updating its visitor guidelines.
For the safety of our patients, providers and staff, most patients who are admitted to the hospital may have two (2) visitors or support persons per day. These guidelines will continue to be updated during and beyond the novel coronavirus (COVID-19) pandemic as the situation and public health guidance changes.
Areas Where Two Visitors Are Allowed for Non-COVID Patients
Adult Critical Care: Surgical Intensive Care Unit (SICU), Medical Intensive Care Unit (MICU) and 3B Flex
Adult Acute Care: 6A, 7A, 8A, 9A, 4B, 4C South
Adolescent Psych/Behavioral Health
Labor and Delivery (only if the patient has tested negative for COVID-19)
Mom and Baby (only if the patient has tested negative for COVID-19)
Pediatric Acute Care and Critical Care Units
Pediatric outpatient surgery/procedure (Pavilion A and Pavilion L)
All community health/family health center pediatric appointments up to nine weeks old (or two-month visit)
Areas Where One Visitor is Allowed
Adult Emergency Department (including the Adult Emergency Department and the Winter Park Medical Center emergency room) – one adult visitor allowed for non-COVID positive/non-COIVD suspected patients
Outpatient Surgery/Procedure waiting areas (Pavilion A and Pavilion L) – Designated Responsible Person
Behavioral health – Adult inpatient: 4E, 4W, 5A
OB Screening (visitor must be partner or family member)
Labor and Delivery (if the patient is COVID positive or awaiting COVID test results)
Mom and Baby (if the patient is COVID positive or awaiting COVID test results)
All community health/family health center pediatric/teen appointments after nine-weeks old
Areas Where One Adult Visitor or Up to Two Children With A Single Parent are Allowed
Areas Where No Visitors Are Allowed at This Time
All COVID-positive patients
Pavilion A: Lab and Radiology
Pavilions D/E: All adult clinics
Pavilion H: The Center for Occupational Safety and Health and all other public health clinics
Outpatient behavioral health
Visiting Hours
Adult Acute and Critical Care Units
9 a.m. – 9 p.m.
Please note, some units may have established "quiet hours" when visitors will be asked to leave – see "COVID-19 Visitor Rules" below
Inpatient Adult Behavioral Health
Monday – Friday: Noon – 1:30 p.m. and 5 – 6:45 p.m.
Saturday – Sunday: Noon – 3 p.m. and 5 – 6:45 p.m.
Limited Exceptions to Visitor Guidelines
Exceptions to the standard visitor allowances may be made by a patient's care team on a case-by-case basis as needed to support the delivery of high-quality care
Exceptions include:


Individuals with disabilities who require in-person supports, including patients who:

Are deaf, blind, and deafblind
Cannot rely on speech to communicate
Have mobility impairments
Have psychosocial, intellectual, developmental, or cognitive disabilities, including those who have a history or record of such an impairment, or a person who is perceived by others as having such an impairment, who rely on in-person supports for orientation, emotional support and anxiety management, and assistance with making decisions

Individuals who are near or at end of life/comfort care or have a critical illness or injury with a high likelihood of dying within 48 hours
Visitors under the age of 18 may be allowed if they are the parent of a child who is a patient, they are the partner of a woman in labor or they are with a single parent who has another minor who is a patient
Mothers can bring infants to post-partum appointments (but no other children)
Individuals who must exercise power of attorney or court-appointed guardianship for a patient
Individuals performing official government functions
COVID-19 Visitor Rules
Please help us to STOP THE SPREAD of COVID-19 to our patients, staff, and the community by following these rules:
ALL visitors must wear masks or face coverings and maintain social distancing while in the hospital. If you remove your mask or face covering, you may be asked to leave.
ALL visitors must be in good health and participate in a health screening. If a health screening determines symptoms of an illness are present (example: fever, cough, shortness of breath, etc.) the visitor will not be allowed to stay.
ALL visitors should stay in patient rooms unless they are asked to leave by staff. Some reasons a visitor may be asked to leave include:

During unit "Quiet Hours" and/or "Shift Change"
If there is a patient care need or a need to protect patient privacy/safety during procedures

If a visitor is asked to leave the room, they may go to the Good Day Café, Gift Shop, Subway, the Chapel or leave the hospital and return later. Please do not wait in hallways or other areas that are currently closed.
ALL visitors are expected to leave the hospital after their visit
Visitors to patients located in Pavilions A and B should enter through the Pavilion A Screening Station. Visitors to patients located in Pavilion C should enter through the Pavilion C Screening Station.
For additional updates on how Denver Health is protecting against the spread of novel coronavirus, visit DenverHealth.org/Coronavirus.
Find a Denver Health Location