Take A Virtual Tour of Our Maternity and Pregnancy Department
September 14, 2020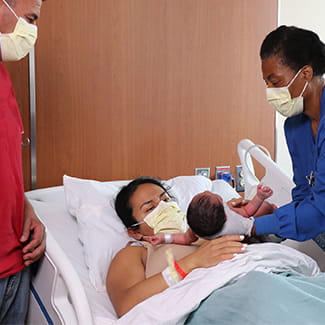 Denver Health is pleased to offer a new virtual tour of our maternity and pregnancy department for all expectant moms and their families.

When the novel coronavirus (COVID-19) pandemic began last spring, Denver Health made several important changes to keep our patients, staff and visitors safe and to prevent the spread of the highly contagious virus. One of those changes was limiting the number of onsite visitors to the hospital, which included suspending our in-person tours for prospective mothers.

This new virtual tour allows patients and prospective patients to view our facilities from the comfort and safety of their homes, so they know exactly what to expect and why Denver Health is often mentioned as the best place to have a baby in Denver. The video gives them a sense of what they would have seen during an in-person tour/walk through and shows them where they need to go through every step of the process.
Why You Should Have Your Baby at Denver Health
At Denver Health, we take care of everybody who comes through our doors. That includes delivering about one-third of the babies born in Denver.
"What sets Denver Health apart from other hospitals is the incredible collaborative care that patients will receive here," said Sarah Barker, a Denver Health Certified Nurse Midwife. That means our doctors, nurses, doulas, midwives and all our providers are working together to make sure you have the birthing experience that you want and that is right for you.

We have providers who speak English, Spanish and many other languages and if we cannot find a provider who speaks your language, Language Interpretation Services are available to all mothers who come to Denver Health to give birth.
Midwifery Care at Denver Health
Denver Health has more than 30 midwives available to help give you the birthing experience you are looking for. Our C-section rate is 10 percent with Denver Health midwives, which is among the lowest in the Denver metro area and the nation.

Midwives offer various techniques with natural vs. medicated birthing, positioning, use of a birthing ball or birthing bar and doulas to help with the process. Mothers can expect to have freedom of movement during labor if that is what they want.
Award-Winning Care for All Mothers
From low-risk, low-intervention births with a midwife to higher risk, obstetric complication births, Denver Health can handle any situation when you come to give birth with us. We have a team of doctors available 24/7 and a high level Neonatal Intensive Care Unit (NICU) in case your baby needs it.

Denver Health is ranked as one of Newsweek's Best Maternity Care Hospitals 2020. Our maternity care program's ranking is among the best in the United States, and is verified by the 2019 Leapfrog Hospital Survey.

The ranking is based on the following factors: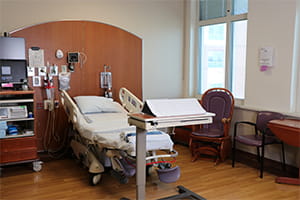 Zero percent of women had elective delivery between 37-39 weeks gestation (third year in a row)
C-section rate of less than 20 percent (10 percent at Denver Health)
Low episiotomy rate
59 percent of full-term newborns were exclusively breast-fed after birth
The Birthing Experience at Denver Health
Moms who arrive at Denver Health to give birth will find special parking spaces in front of Pavilion C marked clearly with signs in English and Spanish that say "Parking for Moms in Labor Only." Once you go in and go through our COVID-19 screening, check in with a security guard to obtain a parking pass to display in your window. You will then be directed to our OB Screening room for evaluation to determine if we will admit you for labor and delivery. Mothers who are admitted will be moved up to the third floor in a private elevator, to ensure that the delivery goes smoothly.

Mothers will then be admitted to a room on the labor and delivery floor and meet their labor and delivery nurse.
Labor and Delivery Rooms
"Our rooms are absolutely beautiful and all of the rooms are private," said Denver Health OB/GYN doctor Jennifer Hyer, MD. "They all come with a space for the mom so she will have her own bed with all the amenities as well as her own bathroom and there's also a couch that folds out into a bed for a family member."

Denver Health's private bathrooms include a hot tub which can be used in the birthing process as well.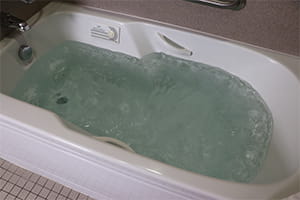 Choose Your Own Birth Plan
"When a patient comes, we really look at them from a risk level standpoint because we want our patients to really get the birthing experience that they desire, but without really sacrificing any level of care," said Denver Health OB/GYN instructor Nicki Nguyen, MD.

After the baby is born, "we'll encourage you to have your baby stay in the room with you," Barker added. "The nurses are there to help you with breastfeeding in the room and to really encourage that staying together and that bonding postpartum."

Breastfeeding, skin-to-skin contact and rooming-in with the newborn baby are all encouraged for mothers after giving birth. Denver Health also has nursery care available for new moms who need it.
Safety During COVID-19 and Beyond
At Denver Health, the priority when you are giving birth is safety. That has been our priority for more than 160 years and remains the same during the COVID-19 pandemic.

We take all the precautions necessary to make sure that any visitors have been screened for symptoms and are wearing masks, keeping their hands clean and practicing social distancing while in common areas. We also regularly clean and sanitize all patient rooms and common areas.

"One really great thing is that we take support during labor and birth really seriously and throughout all of this period of COVID-19, we've always allowed at least one visitor in with our birthing moms," said Barker. See our most updated visitor guidelines.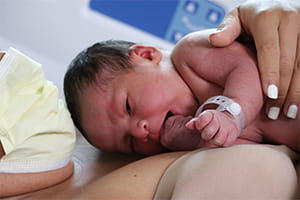 Best Place to Have a Baby in Denver
Barker sums up her feelings about why you should have your baby at Denver Health by highlighting our quality of care.

"Most of the nurses, midwives and doctors who work here have their babies here ... and I know that if I were to ever have a baby, it would be here at Denver Health."