Denver Health Research Helped Authorize Emergency Treatment for COVID-19
October 14, 2020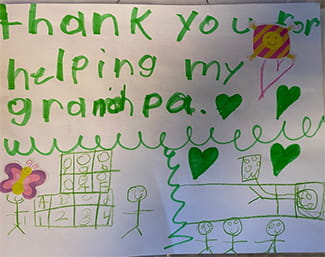 Remdesivir Study is First COVID-19 Drug Trial in U.S.
Denver Health is in the third phase of the first COVID-19 drug trial in the country. In the first phase of the large-scale, fast-paced study, COVID-19 patient participants received the anti-viral medication Remdesivir. The trial helped in getting emergency authorization from the Food & Drug Administration to use the drug to treat COVID-19 patients.

When lives were at stake, Denver Health Infectious Disease research nurse supervisor and project manager Amy Irwin, RN, DNP was able to get the study approved and running in a record-breaking 18 days. "We were the first hospital within the state of Colorado to be up and running a therapeutic trial for COVID-19 at the beginning of the outbreak," Irwin said. The trial, sponsored by the National Institutes of Health, found Remdesivir decreased the severity of symptoms and shortened hospital stays.

Families of patients who received the treatment are grateful for the teams who helped their loved ones get better. "Thank you for helping my grandpa," wrote the grandson of a patient cared for by Denver Health's BioMedical Containment Unit director Maria (Gaby) Frank, MD, in a handmade letter.

The randomized, double-blind study required that some patients receive the Remdesivir treatment while others received a placebo. "It was heartbreaking at times," said Dr. Irwin. "Since Denver Health was not allowing visitors due to COVID, I often met with family members in parking lots to have them sign research consents for patients who were already on ventilators. It was especially hard when they would plead with you for their loved one to receive the experimental drug when you had no control over which group they would be randomized to, and to explain why. I'd come home, immediately wash my scrubs, shower, cry, and prepare myself for the next day."

The trial's second phase added a second drug, the oral anti-inflammatory medication Baricitinib, to the treatment protocol. In the study's third phase, patients are receiving Interferon Beta-1A, an anti-inflammatory injection. A fourth phase will follow (and possibly a fifth), with the trial expected to continue into 2021. "This study has been so meaningful on a multitude of levels professionally and personally, for me. Scientists and clinicians all over the world came together in record speed with a common goal, to help people in grave need to find medications to treat COVID-19. I'm proud of the work our collective team did here at Denver Health under the direction of Dr. Frank, for our contributions to this global study, and am most thankful to the patients who bravely volunteered to help others in a time of great uncertainty and fear," Dr. Irwin said.

In addition to the Remdesivir trial, there have been five other COVID-19 clinical trials at Denver Health, and our research continues. Denver Health thanks our research staff for their persistence and contributions, and our patient participant population for contributing to our research efforts.