Free COVID-19 Tests Available to Denver Public Schools Students at Denver Health
October 22, 2020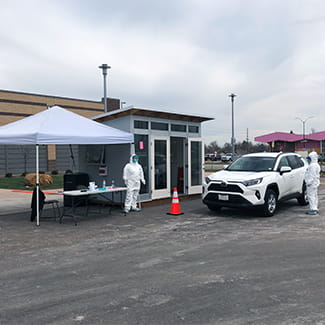 As students slowly make their way back to in-person learning, Denver Health's School-based Health Centers (SBHC) and Denver Public Schools (DPS) are teaming up to make sure that all students throughout the entire district will have access to free COVID-19 testing.

The move is the latest effort by the district and Denver Health's public health leaders to ensure and enhance the safety of staff, students and families. Free COVID-19 testing will be provided if a student is symptomatic and has been screened and recommended for a test. The primary goal of testing is to provide the safest environment for in-person learning and for the district to be able to adequately respond and limit the potential exposure and spread. Access to testing also creates a proper chain of information to public health officials to conduct contact tracing and provide guidance on quarantines.

"By providing testing to kids we can prioritize them and thus, prioritize a safe and successful environment for them to be in school," said Denver Health director of general pediatrics and school & community programs Steve Federico, MD. "For the last 33 years, Denver Health has worked to build a 'no wrong door approach' when it comes to providing access to health care for our students. This is just the latest way we are expanding that care and making it accessible, no matter your circumstances."
While testing is just one of many steps in preventive measures for not spreading the virus, it's a crucial step that parents shouldn't have to worry about. Access to free and fast testing at Denver Health will ensure that parents don't have to worry.
"Thanks to our community partnerships, we can now provide free testing for both staff and students," said DPS Superintendent Susana Cordova. "This will help us to create safer school environments, limit the disruptions to student learning and provide access to healthcare supports for our students."
How and Where DPS Students Can Get a Free COVID-19 Test
Prior to an appointment for testing, parents and students will need to complete their schools' daily health screening. If a student fails a health screening, or is showing symptoms of illness, students will be directed to next steps should a test be necessary.

Testing will be made available at the following Denver Health sites:
Learn more about Denver Health's School-based Health Centers and the range of care they provide at no cost to families of all DPS students.