First COVID-19 Vaccine Shipment Arrives at Denver Health
December 16, 2020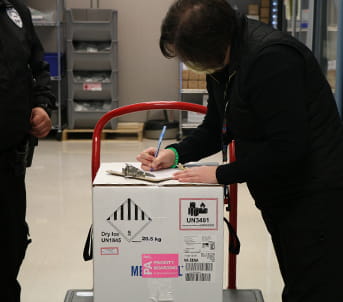 Update: Based on recommendations from the Centers for Disease Control and the Food and Drug Administration, Denver Health will resume administration of the Johnson & Johnson (Janssen) COVID-19 Vaccine. Learn more here.
Vaccinations are available to everyone age 16 and over. Denver Health will continue to vaccinate patients according to the latest state guidelines. Learn how to make an appointment for a vaccine at Denver Health.
Original article: Denver Health is excited and grateful to receive its first shipment of COVID-19 Vaccines this morning. At 7:30 a.m., FedEx delivered a special shipping box filled with nearly 3,000 doses of the Pfizer BioNTech COVID-19 Vaccine. Those first doses are expected to be given out starting tomorrow afternoon to Denver Health frontline workers and support staff who work with COVID-19 patients. The distribution plan is based on state and federal guidelines, with plans to vaccinate patients next year.

Denver Health Pharmacy Program Analyst Tabitha Dixon is managing the arrival and storage of the COVID-19 vaccines at our Denver Health Pharmacies. She said she asked to be assigned to oversee the arrival of the vaccines, calling it the greatest project of her life.

"I am very excited that this vaccine is here," Dixon said with tears of joy streaming down her face.
"I'm getting married next July and I want to get my life back to normal, and the only way to do that is for all of us to return to some sort of new normal and I believe that this vaccine is a huge part of that process. I think about all of the people who work at Denver Health and in the health care industry who are face to face with people every day without this vaccine and how much more confident they are going to feel walking into a patient room, knowing that they are protected."
Dixon arrived at work at 4:45 a.m. to get everything ready for this most special of deliveries. The Pfizer BioNTech vaccines require shipment in a customized box, surrounded by dry ice, because they have to be kept at -94 degrees Fahrenheit. Once the vaccines came off the truck at Denver Health, two security guards escorted the precious cargo to a special freezer in the pharmacy, called an Ultra-Low Temperature Freezer or ULT. Dixon credits a team of Denver Health employees from many departments for making sure that the delivery went smoothly this morning. "I am but 1/100th of the equation," she said.
Because of the specific temperature requirements for this particular vaccine, it cannot be at room temperature for any more than 3-5 minutes, unless it is going to be used immediately. Dixon set a timer to make sure she got all the vials out of the box, inspected and into our freezer within that short time frame. She wore special protective gloves and a face shield to protect herself from the dry ice.
Denver Health has backup generators ready to take over to keep powering the freezer, just in case there is an unexpected power outage. Temperatures are continually monitored by computer and in person, by employees who keep track of the temperature using paper logs.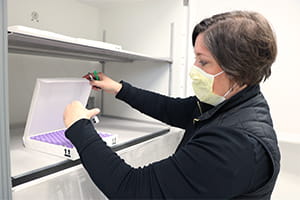 Before the vaccines are given out, they will need to be thawed in a standard refrigerator for three hours, brought to room temperature and then diluted. The Moderna COVID-19 vaccine, unlike Pfizer's, can be stored in a standard freezer and does not need to be diluted before being administered.
Denver Health expects to continue receiving COVID-19 vaccine shipments weekly or bi-weekly.
"This is life-changing, this is amazing, and the amount of time it took to turn this around, was amazing and I really hope this opens the door for future vaccines to come in more quickly too. I am very, very hopeful for all of the COVID vaccines," Dixon said.