Denver Health Reflects on One Year Since First COVID-19 Patient
March 16, 2021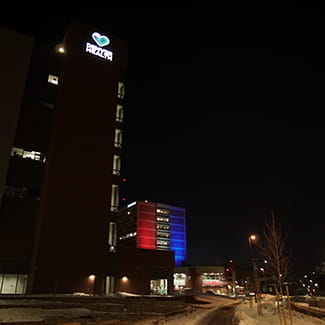 Today marks one year since Denver Health admitted its first critically ill COVID-19 (novel coronavirus) patient. It's a day to look back on and reflect on those we have lost while celebrating that first admitted patient and the nearly 2,000 others admitted to Denver Health who have survived the virus and recovered. The tireless efforts and achievements of our frontline health care workers symbolize this anniversary along with the more than 70,000 doses of COVID-19 vaccines that have been administered at Denver Health hospital, at our community health centers and at vaccination events held around the city.
Denver Health Nurse Feels Loss and Finds Healing One Year Later
On March 16, 2020, Elizabeth Markovich admitted Denver Health's first critically ill COVID-19 patient to the hospital. Since then, she's been through an unprecedented journey – one that's brought fear, sorrow, hope and learning.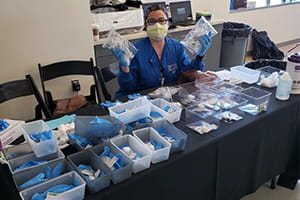 In addition to caring for patients in Denver Health's
Medical Intensive Care Unit
(MICU), the advanced registered nurse is now helping vaccinate patients in our
COVID-19 vaccination clinics
. Her outlook for the future is bright, but the traumas she's witnessed are still fresh. Markovich, who has worked at Denver Health for 28 years, remembers the fear in the air on March 16, 2020, when the unit charge nurse, who was three months pregnant at the time, asked if she would be willing to do the first intake. Markovich bravely accepted, wanting to protect her co-workers from exposure.
"The fear was of the unknown," Markovich said. "Normally, there are protocols for every type of patient. For this, there was really no literature out there to fall back on."
It wasn't long before the MICU was filled with COVID patients. During the pandemic's first surge, we saw the isolation that came from measures to prevent the infection from spreading. Intravenous pumps lined empty hallways. Tubes stretched underneath closed doors into rooms with patients on life support. As the unit approached capacity, ICU nurses trained nurses in other areas of the hospital to accommodate the growing number of COVID patients, who were often on ventilators.
"There's no room for error," Markovich said. "The hardest thing was when the patients who were critical didn't get to say goodbye to their families," Markovich said.
Markovich would soon experience the heartache of losing one of her own family members to COVID. In June, she took a weekend away from her patients to care for her mother in Ohio, who later passed away from COVID-19.
Her way of healing from losing someone so close to her has come in a unique form.
"Now, I volunteer for the vaccine clinics because that is my way of healing," said Markovich, who finds a sense of closure in vaccinating people against COVID-19. "The vaccine clinics are like my therapy." In total, as of today, Denver Health has administered 73,789 doses of the COVID-19 vaccine to staff, patients and members of the public who are eligible under state guidelines.
Things Are Turning Around
Around Denver Health there is a feeling, with the arrival of the vaccines and the state of Colorado opening up vaccinations to more and more groups that things are turning around. Last week, Denver Health staff joined with the City of Denver in a moment of silence to observe and reflect on the past year since COVID-19 first arrived in our community. It was a moment to reflect and show gratitude for all of our staff, patients and families and what everyone has gone through over the past year.
"At the beginning of the pandemic, there was so much anxiety over what we didn't know and the uncertainty when the first test came back positive," Denver Health infectious disease and public health expert Sarah Rowan, MD told FOX31 News.

No longer are Denver Health's Intensive Care Units full as they were just a few months ago. "We're not feeling overrun with COVID patients anymore," said Denver Health respiratory therapist Ryan Kelley.
Denver Health Lit Up in Red, White and Blue
To reflect on this incredible year of pain, loss, recovery and strength, as well as to look ahead at the return to normal that the vaccinations underway will one day soon bring, Denver Health is lighting up the east side of Pavilion A on the main campus in a patriotic red, white and blue each night. The building will be lit in these colors through the end of March. The building is located at 777 Bannock St. and can be seen as you drive down Speer Boulevard or Bannock St.