Eliminating the Lines at Denver Health Pharmacies
June 15, 2021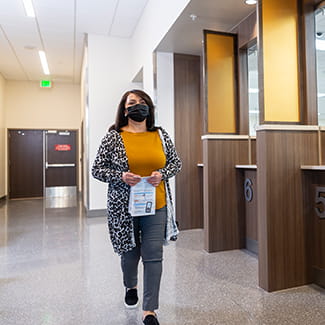 The next time you go to pick up your medication(s) at Denver Health's new Outpatient Medical Center Pharmacy or the Webb Center for Primary Care Pharmacy you will notice something new – no more long lines!

For just over a month now, Denver Health Pharmacy has been using new technology from a company called QMatic at these two pharmacy locations that eliminates the physical line in favor of a virtual one.

Here's what patients need to know:
When you walk into either the Outpatient Medical Center or Webb Center for Primary Care Pharmacy locations, you will see a kiosk located near the entrance of the pharmacy and clearly marked with signs
A friendly pharmacy associate will be standing next to the kiosk to assist you in choosing your language of preference on the screen and getting you a ticket from the kiosk with a number on it
Once you have your ticket, you can have a seat and wait for your number to be displayed on a large LED screen and called over the loudspeaker
Once your number is called, you may go up to the pharmacy window and our pharmacy staff will assist you in picking up your medication(s)
All patients visiting the pharmacy, whether you have called in your prescription or if you have just come from an office visit with your provider, must get a ticket when visiting these two pharmacy locations
"The goal of this new technology is to improve the patient experience," explained Kurt Henke, PharmD, Outpatient Medical Center Pharmacy manager. "While new to pharmacy, this technology can be compared to other systems used in the health care industry that also strive to improve the patient experience."

Denver Health is working to expand the system to all Denver Health Pharmacies, which in addition to our Pharmacy by Mail options, will make the entire pharmacy experience a lot more convenient for patients.

Patient privacy is another added benefit of the virtual line, because instead of a patient's name being displayed on a TV screen as they wait for their medications, this system randomly generates a number assigned to each patient, protecting all of their identifying information.

The virtual line also allows pharmacy staff to closely monitor patient wait times and adjust focus when needed, so that patients are not waiting longer than needed to get their medications.

"We are excited to offer this new service on our main campus here at Denver Health and looking forward to expanding it to all of our pharmacies soon," said Henke.